There are a number of different services that will let you record remote conversations.
Skype is a popular way to conduct online interviews and there are several ways to record Skype calls.
The issue with Skype is that sound quality is poor, even if all parties have great internet connections.
The good news is that there are excellent alternatives to Skype that let you record remote podcast interviews.
Bonus: Free 10-Day "How To Start A Podcast" Email Course
Just click the link and enter your email to get the first lesson:
Click Here To Get The Free "How To Start A Podcast" Email Course
Just a few of the things you'll learn:
What to podcast about
Equipment you'll need
How to record & edit
How to promote your podcast
Get started today!
These also work well if your co-host is in another location and you can't physically record in the same space.
One of the main benefits of most of these services is that they record the audio locally for each person. That means that even if there are issues with your internet connection during the call, the audio quality stays high.
2023 Featured Choice: Iris
Let's take a look at the options:
Best Remote Recording Platforms
Iris
Iris is a brand new remote recording platform that is launched with HD video recording, separate audio tracks, team member features, and more! They also have some cool features coming out soon.
There is chat built-in, several ways to invite guests and co-hosts, dark mode, and automatic uploads.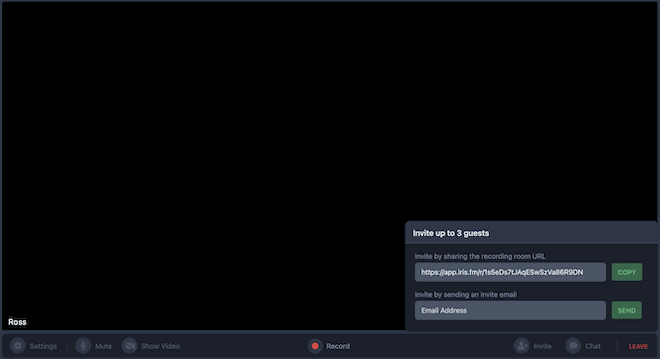 There are several options to download both audio and video files. You can download either locally from each person for the highest quality or a composed version to quickly share and publish: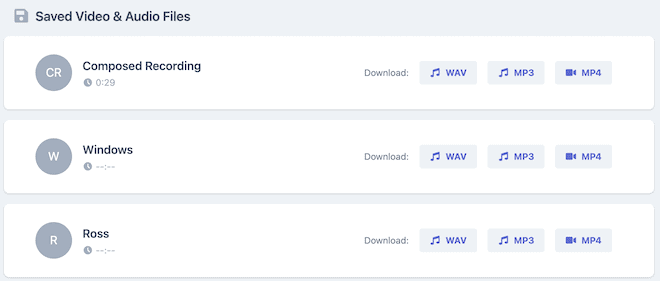 Pricing starts at $9/month to record audio and video – sign up here!
Squadcast
I learned about Squadcast at Podcast Movement a couple of years ago. Since then, they have quickly become one of the best podcast interview platforms.
They have focused on both the host and guest experience to make things as easy as possible, while also getting the best audio quality possible.
A few highlights:
There is a "green room" where you can chat and make sure everyone is ready for the call.
Audio is saved on all sides of the conversion (in separate tracks) and automatically uploaded, so the chance of losing anything is very small.
The host can download both WAV (44.1 kHz, 16-bit) and MP3 formats
There is video so you can see who you are talking to (video recording coming soon too!) – this is optional and you can turn it off if you want.
Up 4 people in one recording session at the same time. 1 host and 3 guests.
Companies like Spotify, ESPN, and Shopify use Squadcast, so you know they can handle your needs.
Squadcast is also regularly making updates and adding new features to better support podcasters.
Pricing starts at $10/month for 2 hours of audio recording per month. 5 hours of audio is $20/month, and 12 hours is $45. You can also save a bit by paying yearly.
Start a free 7-day trial of Squadcast here.
Riverside
Riverside is relatively new but they have an impressive and useful list of features:
If you want to do live podcasting, they have built-in integrations for Facebook, YouTube, Twitter, and Twitch livestreaming.
It supports up to 8 people (1 host and 7 guests).
There is call-in functionality for guests with a screener-like feature
You can share your screen, switch cameras, and chat all from the dashboard.
Recording for audio and video is done both locally and over the internet so you can choose which quality you would like to use:

Popular podcasts like Morning Brew and the NFL use them, so you know you're in good hands.
Pricing is for audio-only recording is $15/month (you can still see video), audio and HD video recording is $29/month, and adding livestreaming support is $39/month – all when paid annually.
Sign up here to start a free trial!
Zencastr
New: Sign up for their video beta here!
Zencastr has a great free plan that lets you record up to 8 hours per month for up to 2 guests in MP3 format.
If you want to record higher quality lossless WAV (16-bit 44.1k) files, you'll need to upgrade to the $20/month plan. You'll also be able to record an unlimited number of guests, save unlimited recordings, use a live soundboard (for music, ads, etc.), and more.
You simply send your guest an invite link and everything is configured through the browser.
There is a neat little soundboard feature so you can upload intros, outros, music, ads, or whatever audio you regularly use in episodes. Then you just click a button to have them play. This can save a ton of time when it comes to editing.

I also like that you can connect Dropbox and have your recordings automatically saved there as that's what I use to save and more importantly, back up my episode files.
In addition to all that, they have an automatic post-production feature that will reduce noise and automatically adjust the output level to your desired setting (default is -19 LUFS).
More Remote Recording Platforms
Ringr
Ringr has two main plans: a $7.99/month basic plan and an $18.99/month premium plan. The big benefits of the premium plan are conference calling (more than 2 people), upgraded sound quality, and split tracks.
One nice bonus is that Ringr has both iOS and Android apps so your guests (or you) can join the call from their phone in addition to their web app that works in Chrome and Firefox.
All plans have unlimited calls, storage, and a "green room" to chat before you start recording.
Your guest will get an email that looks like this with the ability to easily add it to their calendar and join the call: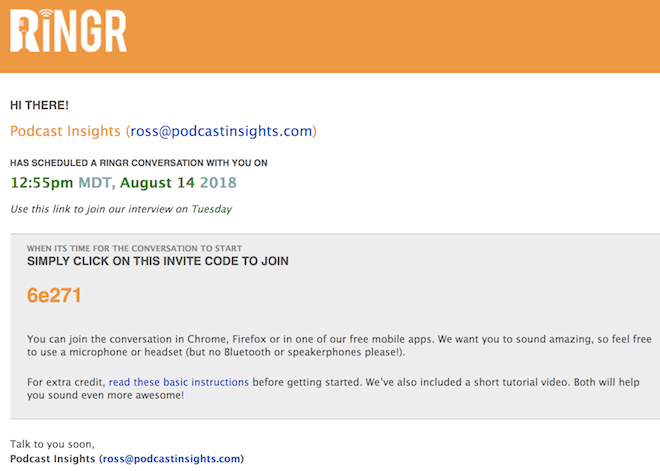 If you follow this link, you can get up to 25% off depending on the length of subscription you sign up for.
Cleanfeed
Cleanfeed is simple to use and they have a free plan that works well to start out. With the pro plan you get access to volume control, multiple input devices, audio repair, and more.
You can connect with multiple people and easily add others right in the dashboard: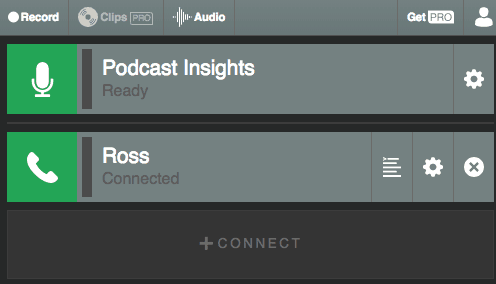 Interestingly, Cleanfeed is technically not a "double-ender", meaning that the entire recording is made live. This can be a pro or con depending on your needs and workflow.
Here's a little more info from their FAQ:
Unlike some of the other solutions your recording is made live, there's no need to 'sync up' a recording at a later time. This makes Cleanfeed usable for live content, as well as pre-recorded interviews. The quality of Cleanfeed's live audio is at the absolute forefront of what technology as to offer, and is what makes this possible.
ClearCast
ClearCast was created by the Art of Manliness creators because they needed a better way to record interviews besides using Skype.
You get high-quality 320kbps, 44.1kHz MP3s at every tier. You get 20 minutes of recording time to try it out for free.
For $25/month you get 10 hours of recording. If you need more than that, the $40/month plan gets you 40 hours.
Cast
Cast is a combo service to record, edit, and publish.

It really is a great value to have everything in one place – and they recently added Dropbox syncing.
They have two tiers:
Hobby at $10/month for 10 hours of recording and a single RSS feed
Pro at $30/month for 100 hours of recording, unlimited RSS feeds, and Dropbox sync
Look here if you're interested in the best podcast hosting sites.
Soundtrap For Storytellers
Spotify-owned Soundtrap just updated their music maker app with some amazing features designed for podcasters.
You can do remote interviews with video. Your guest doesn't need an account – just a link so they can join from any device, but you'll need to use the desktop app.
Transcripts are built-in (up to 8 hours/month) so you can edit like you would a Word doc as well.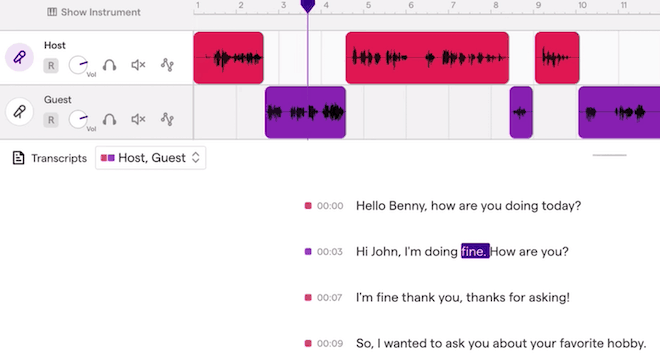 I've yet to test out how accurate it is, but overall this kind of sounds like Descript combined with most of the above remote recording apps for $11.99/month.
Zoom
Zoom is popular for video calls and meetings and they have an option to record audio tracks for each participant:
I wouldn't sign up for the service if all you want to do is record interviews, but If you already have a Zoom account, this is a good way to start but you run into the same issues as Skype calls.
ipDTL
ipDTL markets themselves as an ISDL line replacement and appears to be targeted toward more professional broadcast studios.
They do have different tiers and features that can work for any level and budget, plus they have video features if you need those as well.

Final Thoughts
No matter which service you choose, you might still want to use an audio editing program to finalize and master your interviews.
It helps to screen your guests and prepare them for the interview by letting them know to use an external mic (USB mics are fine) and make sure all distractions and noises are minimized if possible.
Which service have you used to record interviews or do remote podcasts? What are your favorite features? Share with me on Twitter!