Ready to start a podcast?
Audio quality is clearly one of the most important factors – and for that, you'll need a good microphone.
As you add more people, you will need some additional gear to get everything hooked up and recorded on your computer. It's not complicated – and I'll tell you exactly what you need to get started.
I'll give a lower budget (but quality) recommendation and some suggested upgrade options as well.
For recording software, just use GarageBand if you have a Mac or Audacity (for Mac & PC). They're both free recording and editing software. If you have an Adobe Creative Cloud subscription, you can use Adobe Audition, but there's no need to pay extra for it to start. Also, see this post for remote recording platforms.
You will also need a place to host your recorded MP3 files. I recommend Buzzsprout podcast hosting (use this link for a free $20 Amazon gift card). It comes with free podcast statistics and great support (it's what I use).
You don't need to do it to first launch your podcast, but I recommend you get your own website host (separate from the podcast host) so that you have complete control over your everything: design, speed, email sign-ups, etc.
If you don't want a slow website, check out Kinsta ($30/mo) or Bluehost ($3.95/mo + a free domain name). Don't forget to get your own domain name!
Buzzsprout will provide you with your podcast RSS feed that you will submit to iTunes, Google Podcasts, Stitcher, etc. Also, take a look at the podcast distribution guide for info on getting more listeners.
Now on to the podcast starter kit recommendations:
1 Person Podcast Starter Kit
Entry Level Option
Ready to start a solo podcast? Here's what you need:
Seriously, that's it.
This is the Audio-Technica ATR2100x-USB. Even Tim Ferriss uses this mic. It has both USB and XLR plugs so you can start by plugging it straight into your computer. Later on, you can look into getting a mixer or audio interface.
It also has a headphone jack so you will be able to hear yourself recording. You'll also want a decent pair of closed-back headphones. The Audio-Technica ATH-M30x headphones are my favorite budget choice.
Feel free to check out the ATR2100 review for the recommended shock mount (to reduce vibrations) and a few more details.
Intermediate Option
Blue Yeti USB Microphone
 – USB only, but has a ton of features and great sound quality. This is what I started with and it's extremely popular for good reason. For a 1 person podcast, a
quality USB mic
is a great choice.
I paired it with the Blue Radius II shock mount
 and Heil PL2T boom
 (cheaper booms aren't strong enough for the weight of the Yeti).
Intermediate+ Option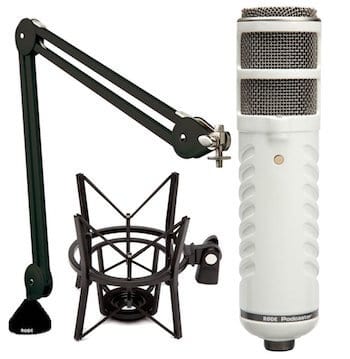 Rode Podcaster Booming Kit: Podcaster, PSA1 Arm, and PSM1 shock mount – Rode is a well-respected brand in the microphone and audio equipment space and they make awesome stuff. This is a USB microphone so you can be up and running in minutes – without needing extra gear.
Pro Option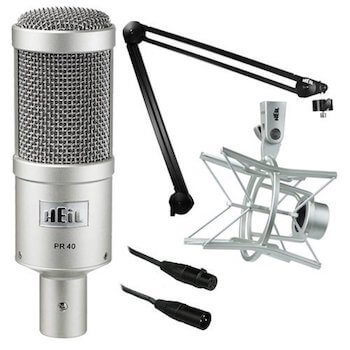 Heil PR-40 Microphone, Heil PL-2T Boom Arm & Heil PRSM Shock Mount – Broadcast-quality microphone that is nearly unanimously recommended by the pros. This is the best podcast starter kit that comes with nearly everything you need, but you still need a way to connect it to your computer.
Get the Focusrite Scarlett 2i2 (2nd Gen) USB Audio Interface to accomplish that task. Round it out with the Heil Windscreen and the Audio-Technica ATH-M50x Headphones. This stuff will be with you for many years and is worth the investment.
2, 3 & 4 Person Podcast Starter Kits
Entry Level Option
With a 2 or more person podcast, you'll each need an XLR microphone – and studio headphones are highly recommended. Because you can't easily record more than 1 USB microphone into one computer, you'll need a USB audio interface or mixer with at least as many XLR microphone inputs as you have hosts. But also consider having a spare input for a guest!
For the multi-person budget podcast kit I'm going to recommend:

The Audio-Technica ATH-M30x headphone recommendation stays the same as the single-host kit.
Just get 2x, 3x or 4x of those 4 things.
You will need a way to plug in multiple pairs of headphones though – and the Behringer HA400 is your solution. Don't forget a balanced TRS cable (different lengths available) to plug it into your mixer or interface.
The USB interface or mixer will depend on how many people you have:
Important: The above mixers don't have multi-track output to your computer, meaning you won't be able to edit each person individually. Choose a USB interface if you need this.
Don't forget you will want extra inputs at some point. Be sure to take a look at the intermediate options for these as the price doesn't jump that much but the quality does.
So to review you will need:
Technically optional but highly recommended (for each person):
Here are some upgrade options… feel free to mix and match!
Intermediate Option
All-around excellent choices that balance price and quality.
Microphone, Boom & Shock Mount
Rode Procaster, Rode PSA 1 Boom Arm, and Rode PSM 1 Shockmount
The Procaster is a big step up from the beginner multi-person kit and is an excellent value for the price.
Headphones
Audio-Technica ATH-M50x Headphones
Audio Interface/Mixer
Pro Option
If you jumped to here, the microphone kit is the same as the solo section (with other top-notch options as well). The Universal Audio interfaces are fairly expensive, but you can safely use a less expensive model (like from the intermediate section right above here) with the other gear recommendations.
Microphone, Boom & Shock Mount
Heil PR-40 Microphone, Heil PL-2T Boom Arm & Heil PRSM Shock Mount (all in one kit)
Microphone & Shock Mount
Because all of these dynamic mics are known to be quiet, I highly recommend pairing them with the CL-1 Cloudlifter (for each mic). It converts phantom power into a very clean +25dB gain. Cloud Microphones has a CL-2 (2 mics) and rack mountable CL-4 model as well.
Boom Arm
Headphones
Shure SRH940 Headphones (probably overkill for podcasting, but they're really nice either way)
Audio Interface/Mixer
Let me know in the comments if you have any questions or if you have your own starter kit recommendations. Lastly, podcasting should be fun, so don't take yourself too seriously!