You need a podcast RSS feed to submit your podcast to iTunes and other podcast directories.
You'll typically get your RSS feed from your podcast hosting company. This is by far the easiest way to create a podcast RSS feed. Details below.
Or you can get (or create) your feed from your own website if you use something like Squarespace or the PowerPress plugin for WordPress.
Make sure you don't upload your audio files directly to website host (with Squarespace being the one exception) as that will cause major issues. You will need to host your .mp3's with a dedicated podcast host.
You want to make sure you submit a feed with only your podcast episodes, not a combination of blog posts and podcast episodes.
I'll show you how to create (or find) your podcast-only RSS feed on the most popular platforms, but first, there are some requirements you need to make sure you follow before trying to submit your feed:
Podcast RSS Feed Requirements
The major Apple Podcasts (iTunes) RSS feed requirements are:
Title
Description
Artwork (min 1,400 x 1,400 px, max 3,000 x 3,000 px at 72 DPI)
Category (at least 1, but using 3 is best)
Language
Explicit rating
The good news is that Apple will specifically let you know if you anything you submitted is incorrect.
And if you are accepted to Apple Podcasts, all the other directories shouldn't be a problem.
How To Create A Podcast RSS Feed
You can create a podcast-only RSS feed on your self-hosted WordPress site with a plugin like PowerPress.
Need your own website? Check out the best WordPress hosting companies for podcasters.
There is a "simple" mode that walks you through the basics required to get your feed set up.
Later you can switch to "advanced" mode to get more access to features you may want to customize.
You'll find your podcast feed URL under: PowerPress -> Settings -> Destinations

If you're using custom podcast channels or category podcasting, you'll find those feed URLs under their respective settings after you activate them.
How To Find Your Podcast RSS Feed
When you host with the top podcast platforms, you won't need to worry about creating your own podcast RSS feed. That's one of the services they do for you.
You just need to make sure you fill out all the required information so that a compliant feed will be created for you.
Buzzsprout
I use Buzzsprout for my podcast hosting company (highly recommended by the way) and they make it really easy to find and submit your podcast feed:

For iTunes, you don't even need to copy and paste, you just simply click 'Submit to iTunes' and follow the instructions on Apple Podcasts.
When you need your RSS feed for other directories, it's just 2 additional clicks to copy it: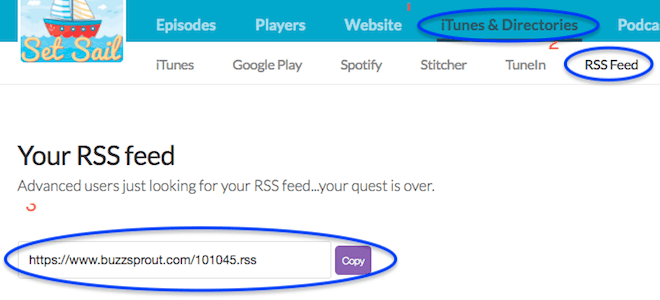 If you need to make any adjustments to your podcast info, just click 'Podcast Settings' up top.
We have a full review of Buzzsprout if you want to learn more about them.
Podbean
For Podbean, you want to go to 'My Podcast' -> Settings.
Under the general options is where you will put your title, artwork, description, and a few other settings.
Then under, 'Feed/iTunes' you'll need to fill out your iTunes Settings. You'll also find your RSS feed URL here too: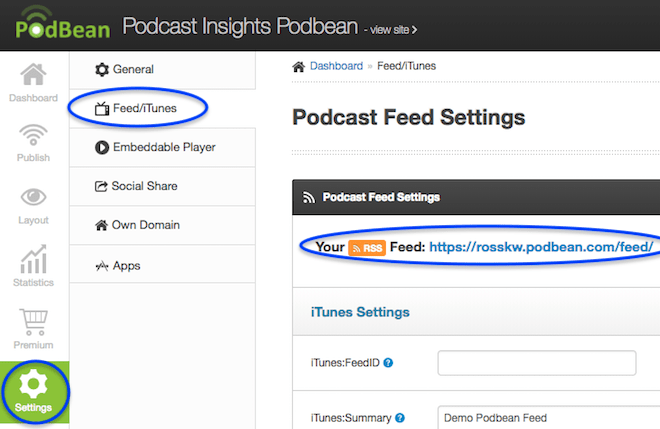 Blubrry
If you're using Blubrry without using the PowerPress WordPress plugin, you'll need to change your Podcast Hosting setting here: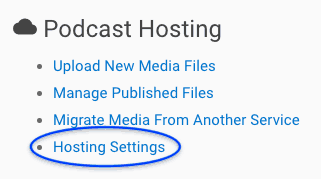 You'll select the bottom checkbox (Podcast Feed Only) and click save. Then you should see a link to get your feed URL: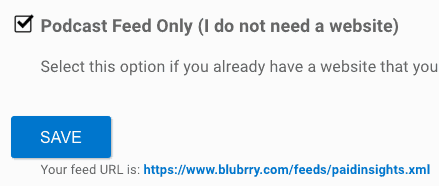 Before you submit it, you'll need to head back to your dashboard and visit 'Podcast Settings' under the Podcast Feed section: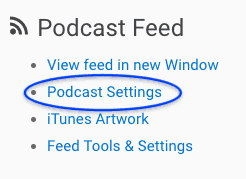 Just make sure you fill out the all the fields and save. Then visit the 'iTunes Artwork' and upload your podcast cover art.
After that, you should be good to submit!
Check out our review of Blubrry to learn more.
Squarespace
If your website is hosted with Squarespace, they will create a podcast RSS feed under a special URL once you set it up.
You'll go to:
Blog Settings -> Syndication
Then click Connect under Podcasting Setup.
Next, you'll enter all the required iTunes information (title, artwork, categories, etc.).
The first Audio Block on a blog post will be the audio that is used for your podcast feed.
The format for your podcast's RSS feed is: http://yoursitename.squarespace.com/blogname?format=rss
You can find more details from Squarespace support here.