We're going to take a closer look at Blubrry podcast hosting. We'll also look at the Blubrry PowerPress WordPress plugin. You'll get a behind-the-scenes look at the dashboard, interface, setup, and more.
Let's get into it…
Blubrry hosting has a number of features that set them apart as one of the top podcast hosting companies:
Other highlights include unlimited downloads and bandwidth, no contracts, hosting on a content delivery network (CDN) with over 35 servers all over the world so that your podcast is delivered as fast as possible, ID3 tagging, and everything is optimized for iTunes and other podcast directories.
If you use WordPress for your website (that's what I recommend), Blubrry makes the process extremely easy – I pretty much only go into my Blubrry dashboard to check stats.
You simply write your show notes, upload your .mp3 right in your WordPress dashboard, and click publish.
Check out this minute-long promo video:
If you don't use WordPress, that's OK too!
You can still upload your episodes and have a fully functional home for your podcast at blubrry.com/yourshow or you can use your .mp3 link or embeddable player on other CMS platforms.
Blubrry Dashboard
Update: Blubrry just released a brand-new dashboard in September 2021. We're in the process of updating all the images.
When you log in and click 'Dashboard' this is what you'll see: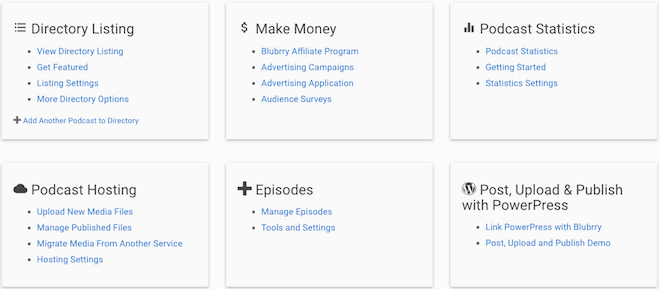 If you click 'Upload New Media Files' under Podcast Hosting (bottom left), you'll get this screen where you can upload your podcast episode .mp3:

And then, when you click 'Upload New Media' you'll get a popup that allows you to simply drag your files in: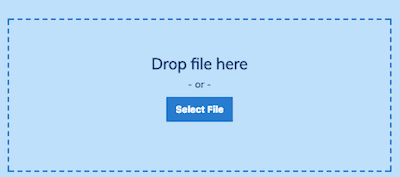 All that said, I never upload my files this way because you can upload them from WordPress.
Blubrry Stats
When you click 'Podcast Statistics' from the dashboard, you'll end up here: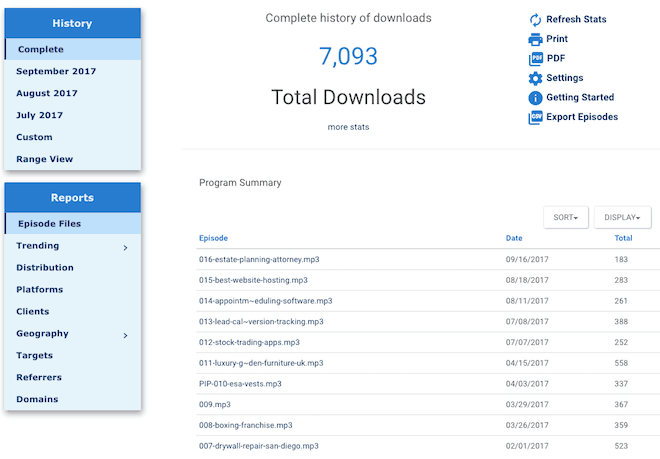 Some useful screens are the 'Trending' reports, which you can view day-by-day: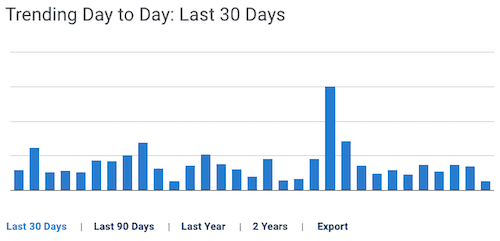 and month-by-month:

You can also see the devices, platforms, countries, states, and more. Here's the 'Platforms' report: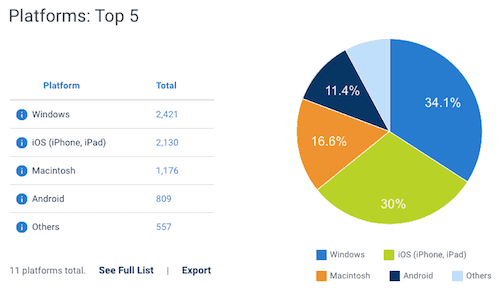 Blubrry Pricing
Blubrry's pricing is set up so that even on the smallest plan, you aren't limited by basic stats or a set amount of bandwidth.
Every plan comes with unlimited bandwidth, premium statistics, free migration, ID3 tagging, an optimized RSS feed, and more.
The different pricing tiers basically differ in the amount of storage you are allowed to upload per month. But keep in mind it resets every month.
The plans are:
Small: $12/month for 100MB
Medium: $20/month for 250MB
Large: $40/month for 500MB
Extra Large: $80/month for 1,000MB (1GB)
Professional: Unlimited Storage
The pricing is for each podcast you have, so if you want to host more than one you'll need an additional plan – but it can all be housed under the same account.
Blubrry Promo Code
There are 2 ways to use the free month promo code for Blubrry:
Enter the code INSIGHTS at checkout
Simply click the button below and the promo code for a free month will be automatically applied…
PowerPress Plugin
PowerPress is the WordPress plugin created by Blubrry. It can be used with any podcast host, but it integrates best with Blubrry's hosting (plus you get a nicely designed podcast player).
You can set up all your iTunes info from the plugin, including subtitle, summary, categories, author name, and more:

Once that's done, you can simply go to the 'Destinations' tab to grab your feed URL to submit to iTunes:

When you're creating your show notes / blog post, PowerPress adds a section below the post to upload or link to your previously uploaded .mp3:

Blubrry vs Podbean
Podbean is another popular podcast host that you may be considering.
With Podbean, you get a better website included with hosting, so if you really want to keep things simple, you may want to check them out over Blubrry.
Their pricing plans when billed annually are:
Free for 5 hours of storage, 100GB bandwidth, and basic stats (no custom domain).
$9/month for unlimited audio storage & unlimited bandwidth
$29/month for unlimited audio and video
$99/month for the business level
You can get a free month with this link.
Here's the migration article for moving from Podbean to Blubrry.
Blubrry vs Libsyn
Blubrry and Libsyn are commonly compared, and both are used by a large number of podcasts, both big and small.
Libsyn has a plan that starts at $5/month but you only get 50MB of monthly storage, which won't be enough for the vast majority of people.
Their other pricing options are:
$15/month for 250MB
$20/month for 400MB (you'll need to be on this plan or higher to get advanced statistics)
$40/month for 800MB
$75/month for 1500MB
Blubrry has a detailed migration process if you want to move from Libsyn to Blubrry.