I consistently recommend having your WordPress site separate from your podcast host. I have briefly highlighted a few of the best web hosting companies for WordPress on other posts, but I wanted to go a little deeper and give you my full list of recommendations.
I'll recommend website and WordPress hosting providers that have proven to work well for podcasters and bloggers. As of November 2023 I have personally used all but one of them.
The prices tend to vary by how many resources they allocate to you and how many additional features are included. Things that tend to increase the price and performance are RAM, CPU, SSD vs HDD, CDNs, staging sites, WordPress optimization, and more.
I have found that a little extra cost not only allows your site to handle more users but also makes it easier to manage, saving you time.
Depending on your budget and how big your audience is, you may want managed WordPress hosting, meaning the web hosting company handles all the confusing server stuff. What's important is that they keep your server online and loading fast. Several of the web hosts below offer both standard hosting and managed hosting. I'll highlight the different tiers where it makes sense.
Looking for a step-by-step guide on how to start a WordPress blog?
Here are the best WordPress hosting providers, starting with managed WordPress hosting:
Best Managed WordPress Hosting
Managed WordPress hosting tends to cost a bit more than shared WordPress hosting.
For the additional cost, the servers are optimized for WordPress, you usually get some guarantee on uptime, faster average load times, and a higher tier of support.
FYI: You might also see this called cloud hosting, but they're not always the same thing.
Kinsta
Kinsta was launched in 2014 and has quickly become one of the fastest and most reliable WordPress hosting companies out there. Companies like GE and Intuit host with them, but they have tons of smaller websites as well.
Speed matters no matter how big you are.
They recently added more lower-level (cheaper) pricing plans that make Kinsta much more accessible to smaller podcasters and bloggers. All of their plans include a CDN from KeyCDN for free too!
My favorite features are one-click staging, 24/7 live chat support, and of course having the fastest servers around. Some other nice features are the ability to choose where in the world your server is located for each site (this helps a ton with more local-oriented sites) and one of the best-looking and easiest-to-use dashboards around.
Check out our full Kinsta review.
If you want to give your listeners and readers a great experience – and don't want your website to crash when you get featured on that big news site, host with Kinsta. They have proven to be the best WordPress hosting provider.
Tip: You'll need to get a domain name from a separate company (check out Namecheap, it's fast and easy to get one) or just search right here:
Please enter your domain.
Please verify that you are not a robot.
Flywheel
Flywheel has a bunch of features focused on agencies building WordPress sites for clients, but that doesn't mean they aren't an excellent choice to use for yourself.
They recently upgraded to the Google Cloud Platform, added free CDNs, upgraded caching, and more… all for the same price. Now is definitely the best time to sign up.
What's great about Flywheel is that they take care of all the technical stuff for you: migrations, security, server upgrades, backups, and more.
They fine-tune all their servers for WordPress so you know it will be blazing fast for you and your readers.
Pricing starts at $15/month for 1 site with up to 5,000 visits/month or $30/month for 25K visits.
They also have some of the best support around – you can even call and talk to a real person! Sign up for a year and get 1 month free.
WPEngine
WPEngine is another popular managed WordPress host that is used by many companies, large and small. The servers have the ability to handle massive amounts of traffic to your site.
Pricing starts at $30/month ($25/month when paid annually) for one site with 25K monthly visits and 10GB storage. Each site includes staging, production, and live environments.
The next tier up includes 10 sites and 100K visits for $115/month ($95.83/month when you pay for the year).
A CDN is included, as well as access to all the StudioPress themes based on the Genesis framework.
They do tend to offer coupons and discounts frequently as well, like this 20% off coupon for a personal plan (coupon code WPE20OFF will be applied automatically, but you can use it on any plan).
Bluehost
Bluehost has a new managed WP Pro service that starts at $19.95/month for unlimited traffic.
There are tons of features – the ones you probably care about include:
Unlimited websites & domains
Unlimited storage
Staging environment
Tons of free WordPress themes
Daily backups
CDN & advanced caching
Free SSL
There's a 30-day money-back guarantee as well.
InMotion
InMotion has several different plans, with VPS hosting and managed WordPress hosting being the two most people would be interested in.
They use SSD drives, NGINX, automatic backups, free SSL, and more. The prices are excellent for what you get and this is a great way to get started with fast managed WP hosting at a great price.
I used an InMotion VPS server for a nationwide franchise and they had great support and speed.
They include a staging plugin that works well, but it doesn't seem to work with Genesis or other themes that build off a framework.
DreamPress by DreamHost
DreamPress is the managed Wordpress hosting option from DreamHost. They are even recommended by WordPress.
Pricing starts at $16.95 when paid annually and includes 30GB SSD storage, 1-click staging, automatic SSL certificate setup, daily backups, unlimited bandwidth, and up to 100K visits/month.
You get a free domain name with any plan if you sign up for the year too!
DreamHost also offers shared, VPS, and dedicated hosting.
EasyWP by Namecheap
EasyWP is a new managed WordPress hosting solution from Namecheap.
They use their own super-fast cloud platform, have great pricing, and a custom easy-to-use dashboard.
According to their website, they are one of the fastest, although this comparison is somewhat hard to believe:
They have a built-in backup and restore tool, the servers auto-scale to your traffic needs, and access to all the tools you could need like SFTP, database access, SSLs, and more.
EasyWP pricing starts at $3.88/month for the starter plan, which has 10GB storage and is good for up to about 50K visitors/month. The first month is only $0.01 too!
The best value for most people is the middle Turbo tier that includes a free CDN and SSL, upgraded RAM and CPU, and 200K visitors/month.
HostGator
HostGator managed WordPress hosting is a great value. You get advanced security, free migrations, and a free domain name when you sign up.
Also included with your plan are daily backups, malware scanning, bot attack blocking, and a free SSL.
Pricing starts at $5.95/month when you pay for 3 years upfront on the Starter plan and scales up depending on how long you pre-pay for.
Here are the other WordPress plans along with the maximum number of sites and the average traffic they recommend:
Managed WordPress Hosting Comparison
Best Shared & VPS WordPress Hosting
Shared hosting means that you share server resources with other websites. Because you typically don't know how many other people are sharing the server and how popular they are, this is pretty much a gamble on how well it will perform at any given time – no matter which company you go with.
It's also a lot cheaper, so these blog hosting sites are great when you're just starting out!
VPS stands for Virtual Private Server and that means that one server is segmented into virtual parts. You will get dedicated resources that can't be used by others on the same physical server. Many of the managed WordPress hosts above actually use this approach – and it works well.
Bluehost
Bluehost is a popular hosting company for bloggers and podcasters of all sizes.
They have one of the easiest WordPress setups around, great pricing & features, and have been around a long time.
Over 2 million sites trust Bluehost to power their business or hobby.
Even WordPress recommends using them.
They have all different tiers of hosting: shared, VPS, dedicated, and a new managed WP Pro plan (mentioned above).
Recent tests from other respected sites show they have 99.99% uptime and quick load times.
They also have 24/7 customer service so you can get questions answered anytime.
You can even get a 63% off discount here ($2.95/month)
HostPapa
HostPapa is based in Canada and has great plans for WordPress hosting.
You'll get a bunch of stuff included with any plan:
Free domain name
Free SSL certificate
A free CDN
On their WP Business plan, you can host unlimited websites with unlimited SSD storage and you won't have any limits on the number of visitors.
You can also create as many amount of email accounts as you want.
Combined with the CDN, advanced caching is used to speed up your site. There is also a WAF (Web Application Firewall) to stop bad bots and hackers.
This is an awesome package for a great price (WP Business is $5.95/month) but they also have a $3.95/month WP Starter plan that just lets you host two websites.
They have a 30-day money-back guarantee and you can save up to 57% by using this link.
DreamHost
I've used DreamHost for years to host many different sites. I started with shared hosting but found it lacking even for smaller sites so I upgraded to a VPS server. The process was really easy and it helped performance a ton.
If I ever want to experiment with a site, I'll usually start here as I can put as many different websites (domains) on a single server as I want. I currently use both this VPS server with 1GB RAM and an optimized & managed WordPress host for larger sites.
You also get a free domain name for a year when you sign up.
Because I host with them, I can offer you a $50 off coupon with this link. Enjoy!
Siteground
Siteground is one of the few I haven't personally used, but they consistently get great reviews and testimonials from their customers.
They really focus on speed and security, with things like Nginx reverse proxy and Memcache, server health checks, a smart WAF (web application firewall), and more.
I would recommend the GrowBig WordPress hosting plan or higher because they include 1-click staging, additional caching, and more server resources dedicated to your sites.
The lowest tier StartUp plan includes one website, and you can still use third-party caching and backup solutions, so this is still a great way to get started.
Siteground pricing has been recently updated:
$6.99/month for StartUp
$9.99/month for GrowBig
$14.99/month for GoGeek
These prices are for the first year, and you can see the full renewal price here: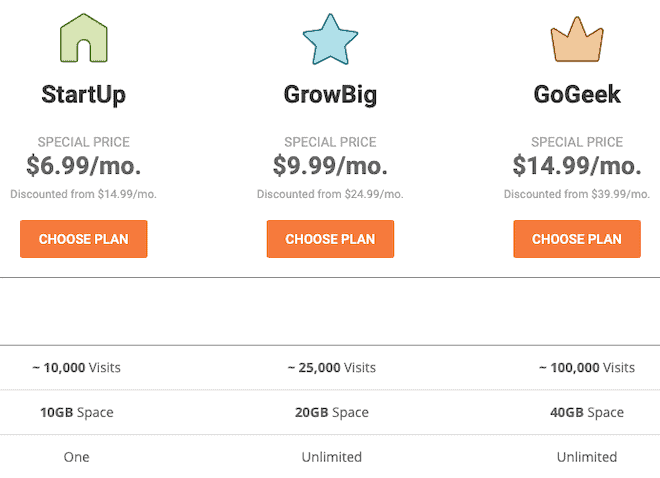 More WordPress Hosts
There are many other popular WordPress hosting platforms, with many of them focusing on the shared and VPS segment.
Here are a few of the popular hosting providers not mentioned above:
As I get time to test them we'll add more info about these and move them into their proper sections above.
WordPress FAQs
What is WordPress hosting?
WordPress hosting allows you to host and get a website online using the WordPress.org CMS (Content Management System).
The basic function of a hosting provider is to provide you with a server (essentially a computer) where your website's files "live" and help serve them to the rest of the internet.
How do you choose a WordPress host?
You should choose a WordPress host based on what you can afford, included features, speed, ease of use, support, and any other criteria you might have.
How much does WordPress hosting cost?
There is a wide range of pricing for WordPress hosting depending on your website traffic, number of sites, included features, and more.
For instance, Bluehost starts at $2.95/month and Kinsta starts at $30/month.
You can't just compare these based on pricing and I happily pay Kinsta hundreds of dollars a month to host this website and others, although if I was limited by budget I would choose something cheaper to get started.
What is the difference between WordPress.com and WordPress.org?
There are several differences between WordPress.com and WordPress.org.
With WordPress.org, you host your own site, with one of the companies mentioned on this page.
With WordPress.com, they handle the hosting and offer a customized version of WordPress for you.
That means that on WordPress.com you are limited to the amount of customization you can do depending on the plan you're on.
We highly recommend using WordPress.org and choosing one of the WordPress hosting companies on this page.
Can I host my WordPress website for free?
You can, but as with most things that are free there are limitations that make it not worthwhile.
We don't recommend it for anyone because you can get a hosting plan under $5/month.
Additional WordPress Resources
Once you pick one of these WordPress hosting companies, you'll need to:
Let me know if you have any questions or need any help.