Starting a podcast and want your own custom domain name?
Or maybe you don't want your podcast's website to be at thebestpodcast.libsyn.com but instead be at thebestpodcast.com.
That second version is much easier to remember or share, and you're not promoting another company (that you're already paying, by the way) in the process.
Quick note: You can't actually register your podcast name on iTunes or other platforms. Getting the domain name (and relevant social media profiles) is the best way to secure your podcast name.
Check out our complete guide to learning how to start a podcast or how to upload to iTunes.
Cool, we decided to want to register a domain name, how do we do it?
Here are the steps to follow:
How To Register A Domain Name On Namecheap
Search for an available name
Purchase (whois privacy is a worthwhile addition too, it's only like $5/year)
It really is that easy.
You can even search right here:
Please enter your domain.
Please verify that you are not a robot.
Here are some more detailed steps though:
Go To Namecheap.com
Visit the Namecheap.com. You'll see something like this:
Enter Your Desired Name
Type in the domain name you want. Hopefully it's available. If it's not, you'll see a message that says "This domain is not available!" 🙁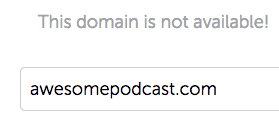 Let's try one more time… Looks like we're all good! Click that little cart button:

View Cart
On the right, click the big 'View Cart' button: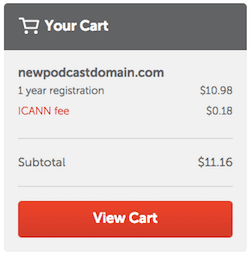 Choose Options & Confirm
You can adjust the length of registration between 1 and 5 years. I also recommend selecting 'Auto-Renew' so your domain name doesn't accidentally expire. Double-check you typed your domain correctly as well.
WhoisGuard will save you from getting spammers calling and emailing you trying to sell you stuff. It's absolutely worth adding.
I've circled the options I typically select here:

Create Account & Pay
Fill out the account creation options and enter your payment details. Then your domain name will be officially registered.
You can also get website hosting through them as well.
You'll need to go in and change your DNS settings at Namecheap to point to your podcast hosting company (if your website is set up there) or you will need to point it your website hosting company.
If you also want to create a new website, I recommend WordPress (here's a guide on getting started with WordPress).
You can find some recommended WordPress plugins (and a few theme builders at the bottom of that post) that should help you make your site better.
Details beyond that probably deserve a dedicated article (or course).
Alternative Ways To Register A Domain Name
If you plan on purchasing WordPress hosting, many of them will offer a free domain name during the process.
Bluehost is a popular web hosting company that will give you a free domain name when you sign up for a hosting package. You can search right here:
Please enter your domain.
Please verify that you are not a robot.
Because I host with them, I can get you a 63% off discount when you sign up for a hosting plan (and you still get a free domain name). Sounds like a great deal to me!
Another option is to get a free domain name with HostPapa.
You'll get up to 57% off WordPress hosting and they have a great offering.
Name.com is another great domain name registrar that is based in Colorado (like I am) and I like to support local companies… that costs me a little more though.
Tips For Choosing A Podcast Domain Name
Here a few tips and suggestions for choosing a domain name for your podcast:
Go with a ".com"
There isn't a .podcast extension at this time and others are hard to remember. You could use a .fm TLD (top-level domain) as those are becoming more popular with podcasters and podcast companies.
But I wouldn't overthink this one, just get [yourdomainname].com.
Avoid dashes and underscores
These just look bad (and maybe even a little shady) so it's best to not use them. Plus it's difficult to say out loud: "the dash best dash podcast dot com" just doesn't have the same ring to it.
Add "podcast"
You'll have a lot better chance of finding an available domain name if you add "podcast" to the end of your desired name or phrase.
Keep it short
It might be difficult to keep it short if you add the "podcast" at the end but the shorter, the better. Fewer words are easier to say and remember.
Don't pigeonhole yourself
Be mindful of how narrow your domain name is. Art of Charm had a difficult time talking about topics beyond dating and similar self-improvement topics because of their name.
Using your real name is a great way to let yourself be flexible when it comes to topics you speak about.
Avoid copyrights
Be careful not to use a name that infringes on someone else's copyright or trademark.
They can force you to take it down (or worse) which means you'll probably have to redo your entire podcast brand.