I have to say that getting a microphone boom arm was one of the best decisions I made for my podcasting studio.
Why? Because I can be ready to record so much faster. All I have to do is pull the boom arm toward me and hit record. But it also frees up a lot of space on your desk and feels much more professional. A mic boom arm also allows you to get perfect mic placement much easier and with better posture. That means your voice sounds better.
Also, if you get a shock mount (and you should), you will need a mic stand of some kind in order to attach it.
It's pretty crazy that one basic piece of equipment can do so much.
But quality varies quite a bit and certain microphones (like the Blue Yeti) are heavier than average and will need a sturdier boom. If you invest in a decent one, it will last you a long time. I would avoid the cheaper ones if you can.
I'll start with my favorite as of September 2023:
Heil PL-2T
The Heil PL-2T sets up in about 2 minutes: you just tighten the vice to your desk and slide the boom arm into the hole. It can rotate 360 degrees and will hold your microphone steady in any position. There is a channel on top to hide your microphone cable, just be sure to align the plastic strips the correct way so they can clip securely into place.
The boom arm segments are both 20″ long, which gives you that little bit of extra reach you need for the right placement. They also hide the springs for a nice clean look.
Heil also offers a range of mounting accessories for more permanent and secure solutions:
This boom is strong enough to hold the Blue Yeti with the Blue Radius II shock mount, both amongst the heaviest of equipment. That means you won't have problems with anything lighter!
You'll also notice that many big podcasters are a fan of it as well: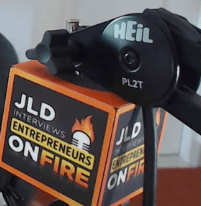 Rode PSA1+
Rode just came out with an upgrade to their classic PSA1 boom arm.
Brand new as of October 2021 (at least that's when mine showed up), the Rode PSA1+ has a number of upgrades and fine-tuning that make this arm excellent.
The built-in arm covers have cable mount clips along the top (4 in total), they included both a clamp mount and an in-desk mount with a subtle Rode design (drilling required).
The microphone mounting arm is greatly upgraded. It's sturdy, tightens easily, and matches the look of the PodMic: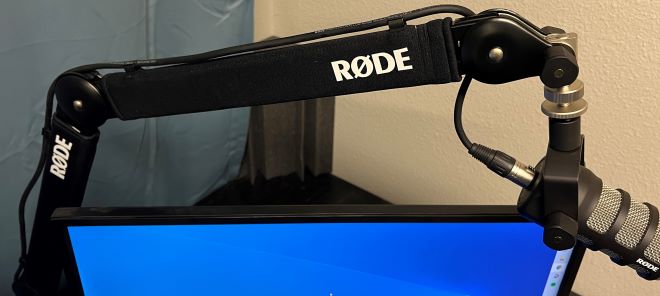 Here's a nice video of someone using one and installing the desk mount:
Rode PSA1
The Rode PSA1 looks and acts very similar to the Heil PL-2T. One of the differences is that cable management is external, although Rode includes velcro bands to secure the cable to the arm. It is designed to hold a microphone + a shock mount up to 2.4lbs. The springs are internal though, which keeps everything quieter.
I have heard mixed reports of this working with the Blue Yeti, and it might be right on the edge of its capabilities when combined with a shock mount. And if you don't use a shock mount, the connecting rod that screws into the microphone is shorter than the PL-2T, not leaving enough room for the USB connection.
You get 360-degree rotation, two mounting options (clamp and flush mount), and has a vertical reach of 33″. The microphone attachment is 3/8″, but they include a 5/8″ adapter so it will work with anything.
This is an extremely popular and well-received microphone boom arm that works great.
Blue Compass
Blue Microphones just released the Blue Compass boom arm in March 2018. With the popularity and quality of their products, this is sure to be a hit.
It has hidden cable management, quiet hinges, mount adapter (for 3/8″ and 5/8″ threading), and a 32″ horizontal reach.
It's priced competitively, is built solid, and can hold plenty of weight (including their own heavy Blue Yeti + shock mount).
There wasn't a ton of competition for quality boom arms from respected companies, so it was only a matter of time before this hit the market.
K&M 23860
The K&M 23860 is a step up in both quality and price for a pro-level consumer boom arm. One thing you might have noticed is that it comes with an XLR cable built-in, so I would probably avoid it if you don't have, or plan to get, an XLR microphone.
The mount is extremely solid, and it has the ability to rotate 360 degrees, but can also lock in position. It is made with steel and is designed for daily use.
Alternatives
A microphone boom arm might be a little out of your budget. One great alternative besides using your included mic stand is to get a tabletop desk stand. They usually cost much less, but still give you the flexibility to add a shock mount as well as get much better microphone positioning.
Another alternative that seems to work for many people is the Neewer Microphone Boom Arm. It's definitely a budget model, but many people have shown it working with the Yeti and other mics. I'm not sure how long it will last, but for under $15 it might be worth a try.