An XLR cable might not seem like the most important thing, but it is often the "weak link" in your audio's signal chain.
You don't want a high-end condenser or dynamic microphone paired with a cheap cable.
They can wear out, pick up interference, and different materials will conduct electricity better or worse than others.
Some terms you might see are balanced or unbalanced, low or high impedance, conductor material, strand count, and more.
It can definitely get kind of confusing – but don't worry about all that.
We're going to help you out by highlighting the best XLR cables among a few different price points.
Most of them will be offered in different cable lengths, with longer cables tending to cost a little more than shorter ones.
They generally fall into three different tiers based on price: budget, mid-range, and high-end.
If you want to save yourself some time, my favorites among the different tiers are:
Best Budget XLR Cables
Planet Waves Classic Series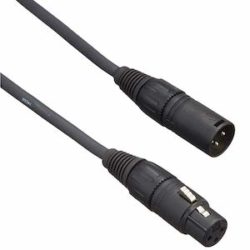 The Planet Waves Classic Series XLR microphone cable is offered in 10, 25, and 50-foot lengths.
The connectors are nickel-plated brass and they offer a limited lifetime guarantee.
Hosa Pro
The Hosa Pro REAN is an excellent budget XLR cable option.
They offer a ton of different lengths ranging from 3 feet to 100 feet, use silver-plated REAN connectors from Neutrik AG, and use 20 AWG two-conductor shielded cables.
LyxPro LCS
If you need to add some color to your studio, LyxPro has a bunch of different options for you and have lengths from 1.5 feet to 100 feet.
Getting different colors can help keep things easily organized as well.
The cables are 24 AWG Oxygen-Free Copper (OFC) and have twin conductive PVC inner shields, 98% braided, and a cotton yarn wrap to help reduce noise.
The contacts are gold-plated and the connectors are solid and snug when plugged into nearly any mic I've tried.
Best Mid-Range XLR Cables
Most home studios are best using mid-range cables. They usually run between $25-$50.
Mogami Silver
Mogami is well-known as a leader in microphone and instrument cables.
The Mogami Silver line is their "budget" line, although it falls into the mid-range pricing here.
You can pick one up at 3, 6, 15, and 25-foot lengths.
Rapco Horizon N1M1
Rapco Horizon is a highly recommended mid-range XLR cable.
The Rapco Horizon N1M1 uses Neutrik connectors, copper conductor and shield, and durable PVC jackets.
They will work great for both stage and studio use.
Best High-End XLR Cables
High-end premium XLR mic cables are overkill for most home studios, but they definitely have their benefits.
They are all excellent at reducing noise and will definitely give you the best possible sound quality.
Mogami Gold Studio
Mogami Gold Studio cables use a balanced 4-conductor cable that is known to reduce unwanted noise and RF interference better than other 2-conductor cables.

You can get it in lengths ranging from 2 feet to 100 feet.
If you want one of the best XLR cables out there and don't want to upgrade down the line, this is the one you want!
They also have an amazing warranty should anything happen – just double-check you are getting a Certified Mogami cable.
Mogami Gold Stage
Mogami Gold Stage XLR cables are designed to take a beating.

You can get them in 20, 30, or 50-foot lengths.
The lifetime "No Excuses" warranty makes the cost worth it as well.