Are you looking to create a private podcast that only your employees or community members can access?
Private podcasts are a great way to share company-wide messages with your organization or give access to a special feed for memberships (an advertising-free feed for example).
There are a few podcast hosting platforms that make it easy:

Transistor
Transistor makes it really easy to create a private podcast feed. You just click a simple checkbox and a unique RSS feed and password is created that your listeners can access: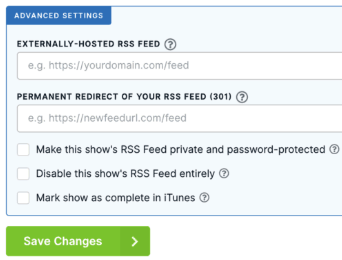 Because Transistor lets you host as many podcasts as you want, you can create a public and a private podcast under one plan for a single price.
You'll need to be on the middle pricing tier or higher to access the private podcasting feature.
Check out this video for a preview:
Check out all of their features here.
Captivate
Captivate recently added private podcasting for every plan.
Every private subscriber gets a unique RSS feed that you can easily email them right in your Captivate dashboard.
This also makes your show secure so that if the feed link gets leaked for any reason, you can remove or change it for just that one person, without affecting everyone else.
They have three main pricing tiers (with unlimited shows on all of them) and depending on which plan you are on, will determine how many private feeds and subscribers you can have:
$19 plan: 1 private feed with 150 private subscribers
$49 plan: 1 private feed with 500 private subscribers
$99 plan: 3 private feeds with 1,000 private subscribers
Because every plan offers unlimited shows, you can easily experiment with a private show without any additional cost.
Captivate also has tons of other features for public shows and is one of our top-rated podcast hosting platforms.
Podbean
Podbean also makes it easy to provide private podcasts.
Because they have their own iOS and Android app, you can control who has access by email address.
For larger enterprise clients, they have single sign-on (SSO) and other secure authorization methods.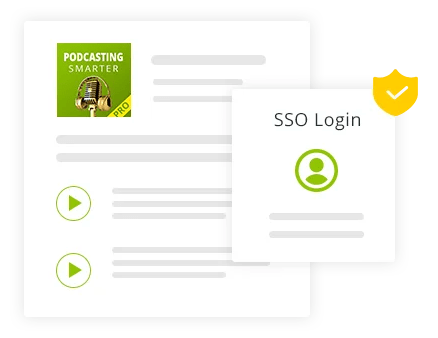 You have the ability to create groups with separate access, which means that if you need separate private podcasts for different departments or roles, it's easy to do: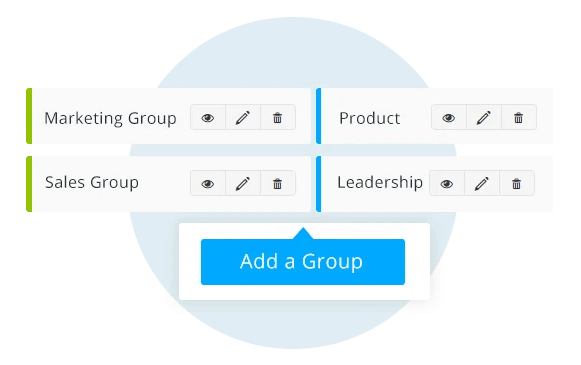 Some of their existing clients include Stripe, DHL, JP Morgan, and IBM.
This is a feature for Pro and Enterprise plans but you can get a free month to try it out here.
Resonate
Resonate Recordings is a top-tier editing and production company and with its new hosting platform, they added private podcast hosting for professional-level clients.
Here is a highlight of the Resonate private hosting features:
Subscriber management: They offer the ability to manage who has access to your podcast. If an employee leaves a company you can simply remove their access to the private podcast.
Private, individualized, RSS feeds for every subscriber: They offer support for unique per-subscriber RSS feeds that will allow show owners to grant and revoke access to their private podcasts that are not listed in the directories. This RSS feed can be pasted into the listener's favorite podcast directory for easy personal access.
Clear instructions for subscribers: After registering, subscribers are greeted with a simple button specific to their platform, and more advanced podcast listeners can copy the RSS feed into their favorite player.
Prevent feeds from being listed in podcast directories: Their private podcasting prevents shows from being publicly listed in directories.
Embed player analytics: Some clients prefer not using RSS feeds. Instead, they like to take advantage of the flexibility and detailed stats of their embed player to host the audio on their secure intranet site so employees can listen to the internal podcast and rely on the already in place security infrastructure.
Sign up here for a free 45-day trial.
Storyboard
Storyboard is a platform dedicated to sharing secure, private podcasts as in-house shows.
Listeners can access shows through the Storyboard iPhone and Android apps as well as through a web player after being whitelisted by an organization (through email invitations or Single Sign-On).
It's free to launch a private podcast for up to 100 listeners. For larger organizations, Storyboard offers a paid Pro Tier which provides customer branding, Listener Analytics, Episode Feedback, and more.
Here's a little preview of the dashboard: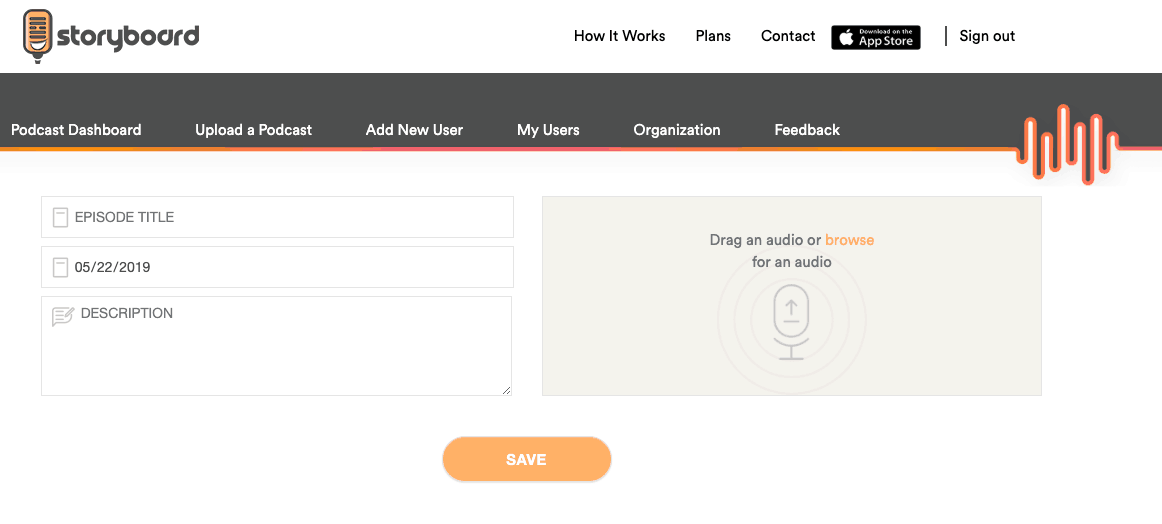 Patreon
Patreon allows your patrons to get access to a private, paid-only RSS feed: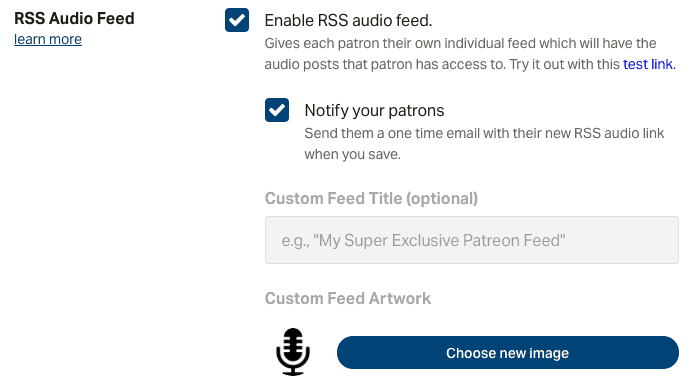 More Options
One other platform I've come across for private podcasting is uStudio.
You can also check out our guide on starting a podcast (public or private) if you need more help.
Bonus: Free 10-Day "How To Start A Podcast" Email Course
Just click the link and enter your email to get the first lesson:
Click Here To Get The Free "How To Start A Podcast" Email Course
Just a few of the things you'll learn:
What to podcast about
Equipment you'll need
How to record & edit
And much more!
Get started today!
Do you know of any other platforms that offer private podcast hosting?