Apple Podcasts (formerly iTunes Podcasts) is the first podcast directory you should submit your podcast too.
You can choose up to 3 separate categories for your show. We recommend you select all 3 so you have more places to be found.
If your show fits into one of the subcategories, we recommend you choose that because you'll also be listed in the main category.
For example, if your show is about nutrition, when you choose the Nutrition subcategory, you'll be listed in both the main Health & Fitness category and the Nutrition subcategory.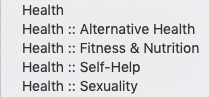 Also, make sure the first category you choose in your podcast platform is the most relevant as that will be the main category you'll be listed in.
Apple recently changed the official Podcast categories and this list is updated as of September 2023.
Just starting your podcast? Check out our How To Start A Podcast guide.
Bonus: Free 10-Day "How To Start A Podcast" Email Course
Just click the link and enter your email to get the first lesson:
Click Here To Get The Free "How To Start A Podcast" Email Course
Just a few of the things you'll learn:
What to podcast about
Equipment you'll need
How to record & edit
How to promote your podcast
Get started today!
iTunes Podcast Category List
Arts

Books
Design
Fashion & Beauty
Food
Performing Arts
Visual Arts

Business

Careers
Entrepreneurship
Investing
Management
Marketing
Non-Profit

Comedy

Comedy Interviews
Improv
Stand-Up

Education

Courses
How To
Language Learning
Self-Improvement

Fiction

Comedy Fiction
Drama
Science Fiction

Government
History
Health & Fitness

Alternative Health
Fitness
Medicine
Mental Health
Nutrition
Sexuality

Kids & Family

Education for Kids
Parenting
Pets & Animals
Stories for Kids

Leisure

Animation & Manga
Automotive
Aviation
Crafts
Games
Hobbies
Home & Garden
Video Games

Music

Music Commentary
Music History
Music Interviews

News

Business News
Daily News
Entertainment News
News Commentary
Politics
Sports News
Tech News

Religion & Spirituality

Buddhism
Christianity
Hinduism
Islam
Judaism
Religion
Spirituality

Science

Astronomy
Chemistry
Earth Sciences
Life Sciences
Mathematics
Natural Sciences
Nature
Physics
Social Sciences

Society & Culture

Documentary
Personal Journals
Philosophy
Places & Travel
Relationships

Sports

Baseball
Basketball
Cricket
Fantasy Sports
Football
Golf
Hockey
Rugby
Running
Soccer
Swimming
Tennis
Volleyball
Wilderness
Wrestling

Technology
True Crime
TV & Film

After Shows
Film History
Film Interviews
Film Reviews
TV Reviews