Not too long ago, Shure came out with the Motiv line of microphones that make recording excellent quality audio easy and accessible. We're taking a close look at the Lightning-connected Shure MV88 iPhone Microphone.
You access and adjust all the features of the microphone within an iPhone / iPad app (except for physically moving the mic), so we'll start by talking about the app and what's possible once you pair it with the MV88.
If you want to skip to the device review, just click Shure MV88 iPhone Microphone in the table of contents:
ShurePlus Motiv iOS App
To begin, there is an amazing free app from Shure.
You don't even need one of their microphones to use it (but the really useful features are unlocked when you do). Any settings you change within the ShurePlus Motiv app are saved to the MV88 microphone, allowing you to use a different audio or video recording app – and even use a different phone – with your previously saved settings.
The app also works with the other Motiv line of products (MV51, MV5, MVi & MVL).
Let's take a look at the different screens within the app:
Record Screen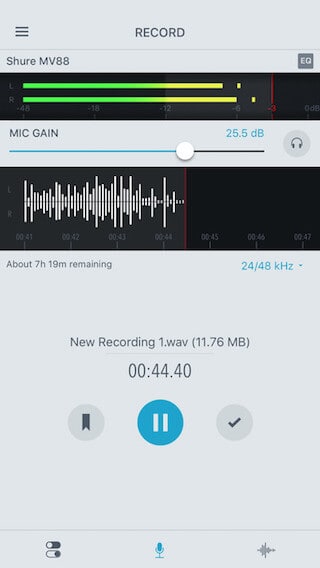 You can record, see your mic levels, adjust gain, change bit depth and sample rate, and turn headphone monitoring on and off from the record screen.
Mic Setup Screen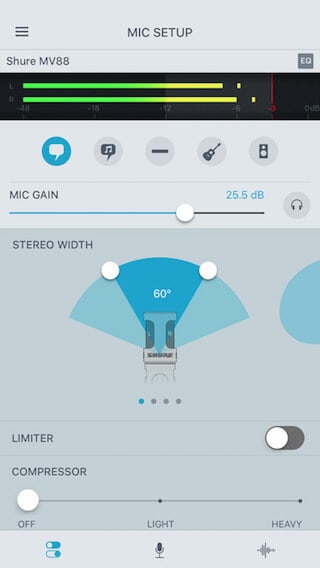 The microphone setup screen is where things get interesting. Again you can adjust the gain and see your levels. There's a gray shaded region that guides you on where your audio levels should peak.
The icons between those 2 areas are presets that automatically change the settings to match what you're recording. The options (from left to right) are:
Speech
Singing
Flat
Acoustic
Band
You can also manually adjust all the settings. You can see the stereo width selector in the image, and if you swipe you'll be able to change to other pickup patterns. The 4 options are:
Stereo (60, 75, 90, 105, 120 & 135 degrees)
Mono Cardioid (great for solo vocal recording)
Mono Bidirectional (great for interviews)
Raw Mid-Side (great for post-processing)
Other options are wind noise reduction, left-right channel swap, compressor, limiter, and 5-band EQ.
Recordings Screen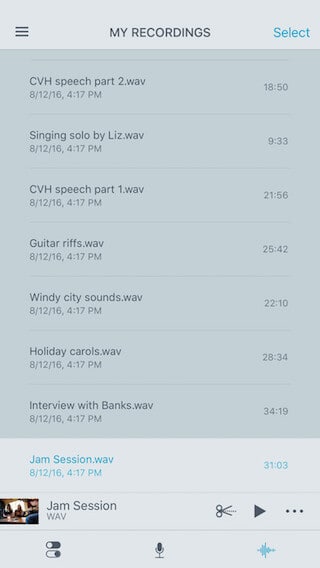 Nothing too fancy here. You can play your recordings, see their length, and get to the edit recording and sharing screens. You can share to Dropbox, iTunes, email and more.
Edit Recording Screen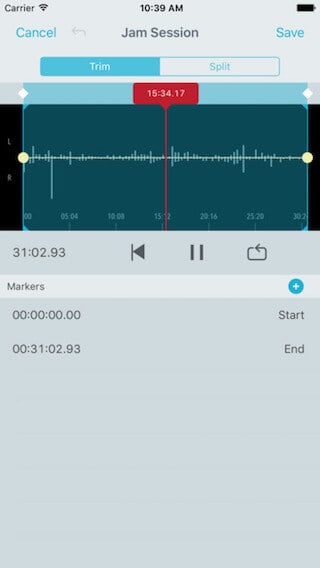 Shure has given us some basic, but very useful editing features. I recommend turning your device into landscape mode for a larger view.
Up top, you can see we are in the Trim mode. Here you can add fade in and out to your track, create a loop, add markers (basically bookmarks),
In Split mode, you guessed it, split your track.
Shure MV88 iPhone Microphone
Now let's talk about the microphone itself.
First, the Shure MV88 is small and made to travel with. It comes with a nice zippered carrying case, a foam windscreen, and a headphone monitoring adapter cable.
As you can see, it connects directly into the lightning port, is made of mostly metal and solid plastic, and has a rotating head that allows you to position the microphone in nearly any direction.
Audio quality is excellent, but I feel the microphone really excels when recording live events.
Other notable features include:
Frequency response from 20Hz to 20KHz
Adjustable gain from 0 to +32dB (controlled in the app)
120 dB max Sound Pressure Level (SPL)
Final Thoughts & Rating
I briefly mentioned it above, but the app allows headphone monitoring, which works great on older Lightning iPhones like the 6S. The problem is Apple decided to remove the headphone jack from the iPhone 7 and I don't see them bringing it back, so you can't monitor the audio easily.
I'm not holding this against Shure because they released the MV88 before that happened, so I'm hoping they're working on an update to include a headphone jack, but no official word on that yet. Either way, this mic has already won many awards.
The MSRP for the MV88 is $149 and the price doesn't appear to fluctuate much like other microphones, although I have seen it for $20 off every now and then.
Lastly, they offer the optional (but recommended) Shure AMV88-FUR Rycote Windjammer to more effectively block wind outdoors.
Our Rating: 4.8/5