Hey, Ross here. This is an excellent guest post from Shane Martin of Lean Mean Creative.
If you want to learn more about how he can help you monetize your podcast, don't hesitate to get in touch with him here.
The secret is out, podcasting is here to stay.
Not just as a form of hobby, but as a vehicle for business. But business implies the generation of revenue, and revenue generation requires —at least at some point— a monetization strategy.
That's where a vast majority of podcasters are getting things wrong.
In this article we're going to explain why traditional advertising and sponsorship is the wrong monetization strategy for 95% of podcasters, and why you should be replacing it with a custom membership model.
Why ads are not going to work for 95% of us
I know I know, every other podcast you hear seems to be hawking the same slew of common goods — MeUndies, Squarespace, Birchbox and beyond.
After all, you've been doing this podcast thing as a side hustle for a while now and have managed to build up a pretty solid following so you think, "Hey it's about time I start making some money here." So you get yourself synced up with an ad network like MidRoll or PodcastOne, put up a few shows and wait for that cold, hard cash to start flowing in.
Unfortunately, it turns out to be not so much of a flow as it is a trickle. And at some point, it dawns on you:
It's REALLY hard to generate decent revenue from ads or sponsors.
Let's take a closer look at the numbers
The fact is, your download numbers have to be significant in order to garner any real return from pre or mid-show ads (especially if you're relying on this revenue as your full-time income).
The exact numbers vary depending on a variety of factors, but we're talking about numbers between 200,000 and 600,000 downloads per month in order to generate even close to the amount of income you'd need to replace your full-time job — let alone prosper beyond that. And on top that, your advertising network is likely taking 50% or more of your ad commissions.
In short, unless you're in the top 5-10% of podcasters, advertising is the wrong approach to monetization.
Okay, so what should I do instead?
We're glad you asked!
The answer to building a successful business for small to medium sized podcasts is simple: membership.
In other words, your biggest fans pay you monthly to be a part of a members-only group that receives exclusive, members-only bonus content and various perks (don't worry about what, exactly, that bonus content is now, that's the easy part).
Think about it, you've put your blood, sweat, and tears into building this podcast from scratch and you finally found an audience of people that love your show.
And while that audience might not be valuable to advertisers, it's extraordinarily valuable to you. After all, these are people that not only know you but likely have built a long-term relationship with you and have formed a dependency on your show. I don't know about you, but that is a valuable asset no matter what business you're in.
Ask yourself this: what would it look like if you converted even just 5% of your current audience into paid members at $7 per month? An extra $1,000 per month? $4,000? $15,000?
In almost every case, the revenue you stand to generate by implementing a paid membership model absolutely trounces what you might have managed to earn through advertising. And on top of that, you aren't going to annoy your listeners (or embarrass yourself), with the same, daily ad spots that are likely just getting skipped over anyway.
But why would people pay me to be a member?
Why wouldn't they? We live in a world where people are customizing their entertainment like never before. They've canceled their generic cable subscriptions and replaced them with subscriptions to their favorite channels, magazines, audiobook providers, and yes… podcasts.
We live in a world where people are able to pay for what they love, and right now, you've got a whole audience of people that love you!
All you need to do is figure out how you can provide your audience with additional value.
Still in denial? Here are a handful of podcasts currently using this exact model:
Here's how it works:
Step 1: Define your incentives
Before you do anything, you need to figure out what to offer your audience in exchange for a monthly membership fee.
What could you provide them that would be so valuable that paying $5-7 per month would be a no-brainer?
I'm telling you now, this is the absolute easiest part. There are endless ways to create added value for your audience. From additional members-only shows or segments to direct access to you in a monthly live chat.
Still can't think of anything? Fine, ask your audience. Put out a Facebook Poll or Google Form on social media and ask your audience what they want more of. They will tell you, these people are your raving fans after all.
Editor's note: Check out the Premium Content section of How To Monetize A Podcast for more ideas.
Step 2: Set up your membership portal
Next, you need to begin implementing the infrastructure you'll need to:
Sell your subscriptions
Deliver your members-only content.
There are a few ways you can go about doing this:
First, there are a number of different third-party membership platforms that you can join to get up and running quickly. However, we will warn that while this is a quick and easy way to get going for those of you who are brand new to podcasting, they aren't the best solutions for those that have any sort of pre-existing audience.
Let's take one that most of you are likely familiar with and may have even experimented with in the past: Patreon.
Patreon is a third party service that allows you to offer membership options to your subscribers all hosted on their platform. Here are the top three things to be aware of before going this route:
At the time of writing this article, Patreon takes a 5% cut of your profits (in addition to the roughly 3% transaction fee).
At smaller scales, the fee is relatively insignificant. However, as soon as you start generating some real income, that 5% becomes a much bigger deal, very quickly —not to mention that this fee will likely increase over time.
With Patreon, you'll likely only be able to convert a fraction of what you might otherwise.
According to Tom Boruta, a developer who tracks Patreon statistics under the name Graphtreon, there are roughly 79,420 creators and around 80% of those users make their earnings on Patreon public. Based on the figures available, only 2% of Patreon creators earn the equivalent of the Federal Minimum Wage of $7.25 per hour (see these statistics and more in this article titled: "No one makes a living on Patreon").
So why is this? After all, we've seen membership models work very well for podcasts, so what's going on here? Great question, the best we can hypothesize —based on anecdotal research— is that a majority of people perceive Patreon as a "donation" service, not a membership program.
This is a small but crucial distinction because in the former case, the user is not expecting to receive anything of value out of the transaction, while in the latter, the user sees the transaction as an exchange of money for value, thereby compelling a higher number of people to sign up at a much greater price point.
You lack customization and lose control.
With Patreon, it's pretty much their way or the highway. As you begin to grow and scale your podcast business, this is going to become a problem.
Got a cool new idea for a membership perk? Better hope it fits within the parameters of what Patreon offers.
Want to implement a new marketing technique or streamline the workflow process to create a better user experience? You will be beholden to the limits of the platform.
In the medium to long run, it's much better to have control over your membership program.
As you can see, while Patreon is a great solution for those of us who are just getting our show off the ground, it's not ideal for podcasters that already have gained some traction.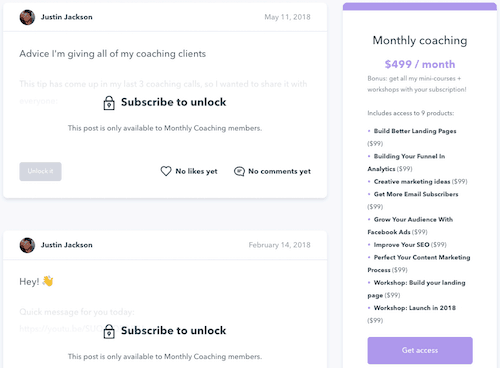 Instead, we recommend that you set up a membership portal on your own website —especially for those of you looking to turn your podcast into a career or full-time gig.
Not only is this likely to save you a ton of money in the long term, but it will give you full control of the workflow and make it much easier for your members to access content. There are a number of WordPress membership plug-ins out there that do the trick, we suggest seeking them out and investing in building your membership platform on your own website.
Editor's note (me again, sorry!): Try out Memberful (works with any site, WP or not) for an awesome way to deliver membership content or Podia for an all-in-one platform that lets you create online courses and memberships.
Will there be a cost associated with this? Absolutely, but the return on investment will be swift. We've seen our clients make that money back in the first 1 or 2 months. After that, you're off to the races and living in the world of profit.
Step 3: Time to launch
Last but not least, launch!
Make an announcement on your show, on your social channels, and to your email list if you've got one.
Consider offering a special discounted rate for those that sign up in the next 3-5 days to encourage action and instill a little scarcity.
Don't be afraid to make a compelling pitch.
Remember, you are NOT asking for donations or asking them to "support the show" by any means. You are providing a valuable product that is tailor-made for an audience that already loves you.
That's it, now you can sit back knowing that you have a strong, sound business model in place to support your dreams of podcasting full time, spreading your message far and wide, and building a community around your show.
Having a steady reliable stream of income will allow you to do what you do best without having to worry about paying the bills or where the next sponsorship opportunity will come from. Now you can focus on reaching a greater audience and building a strong community of people that you care about and who care about you.