What's the best microphone for recording vocals in 2023?
Well, the "best" vocal mics all cost over $1,500 – plus you will need a handful of other expensive equipment to properly power them.
But I'm guessing that's not what you had in mind…
So we're going to take a look at the best studio microphones for recording vocals under $1,000.
If you're interested in the absolute best, take a look at the top of this list of condenser microphones.
Neumann TLM 102
The Neumann TLM 102 is definitely one of the best studio microphones under $1,000.
The Neumann brand is regarded as one of the best when it comes to vocal mics, but many of their models are usually well over $1K.
With the TLM 102, you get a large-diaphragm condenser with 132dB of dynamic range and a presence boost above 6kHz in a cardioid pickup pattern.
You'll want to pair it with the Neumann EA 4 shock mount for the best results.
Rode NT1
We highlighted the Rode NT1 as the best condenser mic under $300.
It has a low self-noise level of 4.5 dBA and uses a cardioid polar pattern which is ideal for vocal recording.
It is offered as part of the Rode NT1-KIT which gets you a high-quality shockmount and windscreen for only $20 more than getting the standalone mic.
I got this as part of the Rode Complete Studio Kit that also comes with the AI-1 USB audio interface and love it!
Shure SM7B
You'll see the Shure SM7B in a ton of podcast studios (Joe Rogan is a popular podcaster that uses several of them). It was also famously used in the recording of Michael Jackson's Thriller album.
It's also our top pick for dynamic microphones under $500.
The SM7B is a dynamic cardioid mic with a built-in shockmount and pop filter (2 actually) so you won't have to get those additional accessories when you get the mic.
One thing to be aware of is that it does require a lot of gain to get great sound, so you will want a decent pre-amp like the DBX286s or something simpler like a Cloudlifter CL-1.
Rode NTK
The Rode NTK is a large-diaphragm tube condenser. Tube microphones are highly regarded for vocal recording because of the smooth ad warm tone they record.
Quick tip: When you record with a tube mic, you'll want to turn it on for at least 30 minutes before you start recording so it has time to warm up.
The Rode NTK comes with its own power supply and doesn't need phantom power. You can also change the tube out to get a different sound – many people recommend the Telefunken E88CC vacuum tube.
This is a mic that produces sound well above its price point and is an excellent investment.
Pair this is the Rode SM2 or SM6 shock mount.
Rode NTR
A list of studio vocal mics wouldn't be complete without a ribbon mic. What makes ribbon microphones so amazing is their fast and near-perfect response to sound waves. The downside is that can be fragile.
The Rode NTR uses a 1.8-micron ribbon element, has an internal shock mount, and a bi-directional pickup pattern.
What makes the NTR unique is that you can secure the ribbon for travel, making it much less likely to be damaged. You also get a free ribbon replacement during the 10-year warranty should you need it.
Mojave Audio

MA-201

Mojave might not be the most well-known name, but I'm a big fan of the MA-201fet.

It's a large-diaphragm condenser that is perfect in the studio. It's not only great for vocals and voiceovers, but also drums, piano, guitar, and more.

I know someone who tried over 50 different mics side-by-side and ended up choosing this one.

It comes with a carrying case and shockmount as well.
Audio-Technica AT2035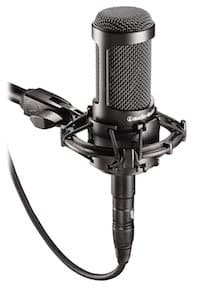 The Audio-Technica AT2035 is an upgraded version of the extremely popular AT2020 studio mic.
It's a cardioid condenser that has a -10dB pad and an 80Hz high-pass filter. You also get a shockmount and pouch – just don't forget a stand and XLR cables!
Final Thoughts
There are many microphone options for studio and vocal use. Many people swear by one kind of another, but it's really a matter of personal preference, budget, and where you are recording.
I don't think you can go wrong with any of these, but I'd like to know what your favorite vocal mics are – let me know in the comments!