Webinars are a great way to teach your audience, sell products and services, and provide additional value to your audience.
There is a wide variety of pricing, capability, and features among the many webinar platforms out there, so I'm going to highlight some of the best features of each.
You'll find some are more focused on selling, while others are more focused on education, training, and interaction.
What's best for most people? As of November 2023 I would choose Demio.
Let's take a look at the best webinar software platforms:
Best Webinar Platforms
Demio
Demio calls itself "hassle-free webinar software for marketers" and has an impressive list of customers.
They have one of the better-looking webinar platforms which helps make your brand look good while teaching.
Highlights include:
Live, Hybrid, Automated, and On-demand webinars
Turn existing live webinar recordings into automated webinars.
Excellent analytics that are being regularly improved.
Integrations with Drip, ActiveCampaign, MailChimp, ConvertKit, and more.
No downloads – all browser-based makes joining easy.
Upload slides or share videos right inside Demio
Polls, CTAs, Handouts, Chat all built-in.
You can start a free trial (all features included) without a credit card.
Pricing starts at $49/month for 50 attendees and goes up to $234/month for 500 attendees, although you'll need to be on the $99/month middle tier to get access to automated events.
You can save 30% by paying annually, bringing down the monthly price to $34, $69, and $163 respectively.
GoToWebinar
GoToWebinar is one of the leaders in the online meeting and webinar space with over 50K customers.
All GoToWebinar plans come with a free $300+ GoToMeeting account too!
Their platform will support anyone, whether you're doing your first webinar or have thousands of attendees every week.
You can customize the look and feel to match your brand, customize registration pages, and view excellent analytics on who showed up, when they left, and much more.
Features include:
Live chat, polls, send files to viewers
Breakout rooms
Phone number call-in options
Drawing tools
Screen sharing
Video embedding (Standard plan and up)
Accept payments for people to attend
Transcripts (Pro plan and up)
Video editor (Pro and up)
It might not be the best platform if you intend to sell courses live on the webinar, but for everything else it's great.
Pricing starts at $49/month for the Lite plan with 100 participants, Standard is $99/month for 250 people and some additional features. They also have Pro and Enterprise offerings (up to 3,000 attendees) too.
Start a free 7-day trial here.
WebinarNinja
WebinarNinja was co-founded by Omar Zenhom of the $100 MBA Podcast (a long-time top business podcast) so you know he knows the needs of podcasters and online creators.
You can run any type of webinar: live, automated, series, or hybrid.
All the features you would expect are included:
Chat
Q&A Area
Polls
Offers
And more
There is nothing to download, you can offer replays with the option to have them expire after X number of days, they integrate with pretty much everything, are GDPR compliant, and have excellent support.
I know it's subjective, but I think they have one of the best-looking designs for everything from the dashboard to the webinar registration and thank you pages to your attendees' experience.
One bonus with WebinarNinja is that they have a webinar search engine so there are other ways people can find you and sign up.
They have some of the best entry-level pricing with a $39/month plan (when paid annually) with 100 attendees. There are several other plans that scale up to 1,000 live attendees for $199/month:
You can start a free 14-day trial here to make sure you like it.
WebinarJam
WebinarJam is another highly recommended webinar platform that was completely rebuilt in February 2020. They are focused on using webinars to sell, but you can absolutely use it for any purpose.
Their software has the ability to reach up to 5,000 people so if you have a larger audience, this is the platform to use.
People can join from any device: desktop, phone, tablet, etc. so there shouldn't be any excuse for people to miss your presentations.
One cool feature is the Drawing Board, where you can create screen annotations, draw or highlight things with a pen tool, and write on top of your presentation.
There are multiple scheduling and registration options you can customize to your needs: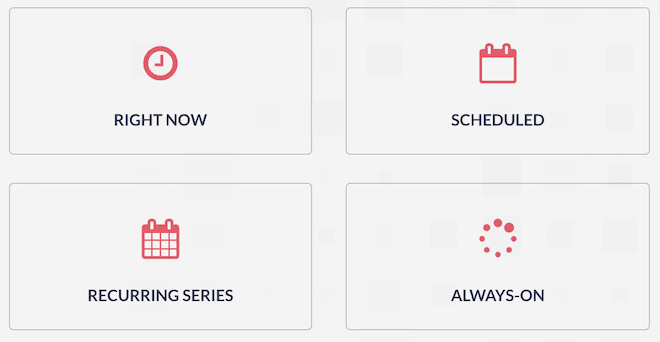 You'll also like the easy-to-understand analytics giving you actionable data on registration numbers, show up rates, replay views, and more:

Other highlights include:
HD everything
Upload Powerpoint and Keynote presentations
One-click registration (no forms to fill out)
Offer downloadable handouts
Polls & surveys
Add attendees as speakers and guests
Registration page builder, templates, and A/B testing
Email and SMS text reminders and follow-ups
Ability to charge for presentations
Show clickable offers with countdown timers and limited unit amounts to increase sales
No software to download
Tons of integrations
Pricing is billed annually starting at $499 for up to 500 attendees, but for only $16.66/month extra, you can have up to 2,000 attendees and several other upgrades.
Start a $1 free trial of WebinarJam today!
Livestorm
Livestorm is a great-looking webinar platform used by all kinds of great companies like Intercom, Front, Pipedrive, and many more.
They offer a bit of everything including live webinars, on-demand webinars, and automated webinars.
Here are some of the great features:
Integrate YouTube Live, Twitch, or any other live stream right in your webinar
Recurring events (one landing page with multiple dates and times)
Screensharing
Chat, Q&A, and Polls
Add guest presenters
Custom branding, registration pages, forms, and more
Tons of detailed reports and analytics
Custom email invites and reminders
They also have tons of integrations available to connect your existing email, CRM, support, or any other platform you might need to communicate with Livestorm.
Pricing starts for free (up to 20 minutes per webinar and 10 registrants), then it is $99/month for 100 live attendees. You can also add additional live attendee limits and hosts as needed.
There is a bunch more so you'll just have to dive in and check it all out:
You can try Livestorm for free (no credit card to get started) here.
EverWebinar
EverWebinar is by the same people as WebinarJam above. It is focused on automated, evergreen webinars that run on autopilot.
You do have the ability to be in the chat while it runs so you can answer questions, but otherwise, everything is automatic.
There are multiple sign-up options for your attendees. You can set up:
Specific sign-up dates and times
Recurring sessions
"Just-in-time" webinars that start within minutes of someone registering
You can easily turn your live WebinarJam recordings into evergreen webinars and everything that happened there will appear to happen "live" including chat, polls, and offers.
And you get many of the same features including the landing page builder, registration reminders, detailed analytics, and more.
Pricing for EverWebinar is $499/year but you can start a 14-day $1 trial to make sure it's right for you.
ClickMeeting
ClickMeeting is another great webinar platform with nearly 150,000 customers.
Everything is browser-based so it will work with any device and they have the capability to handle anything.
You can use their software for sales, marketing, teaching, training, and more.
They have all the features you could need:
Custom branding
Subaccounts
Paid webinars
Automated webinars
Whiteboard
Polls & surveys
Toll-free call-in numbers
Customizable call to actions
Recordings, stats, sharing, and much more
You can even host meetings where you everyone can speak and share on their platform.
Pricing is fairly simple. Live webinars start at $25/month for 25 attendees.
If you want automated webinars, ClickMeeting starts at $40/month but you also get a handful of other features like automatic thank you emails as well.
Pricing scales up on both plans based on the number of attendees you need – up to 1,000 people.
There is a 25-attendee free plan for 30 days so you can play around and test things out.
Try out ClickMeeting for free here.
EasyWebinar
EasyWebinar has both live and automated webinars. You can even turn live webinars into automated, evergreen webinars easily.
As the name implies, it's extremely easy to use for both you (the presenter) and your guests – plus it looks great and modern.
Here are some of the highlights:
New EasyCast feature that lets you stream to Facebook Live and YouTube Live at the same time.
Advanced analytics that shows you if people showed up, how long they stayed, and even if they clicked on the offer you showed.
They have integrations with popular email platforms like Mailchimp, ConvertKit, Aweber, and more.
SMS and Skype integration to remind people to show up.
They have a bunch of great case studies on their site and a lot of high-profile people and companies use them to great success.
Pricing starts at $78/month for 100 live attendees and goes up to $129/month for 500 live attendees, although you can save quite a bit if you pay annually.
Start a free 14-day trial here.
More Webinar Platforms
Here are several other webinar software platforms that we recommend as well, depending on your needs:
Free Webinar Platforms
There are a few tools you might already have access to that you can use for basic webinars.
They definitely won't have all the features you might need but if you want to get started for free or do something small, check these out:
Google Hangouts Meet
If you already use GSuite for email, you have access to Google Hangouts Meet.
It allows you to have meetings with up to 100 people on the basic edition and 150 people on the business plan, plus there is a dial-in phone number for people to use as well.
YouTube, Facebook, or Twitch Live
I combined all these because they essentially work the same way.
They don't have sign-up features, offers, reminders, or many other features but they are a way to reach hundreds or thousands of people at once for free.
Things To Consider When Choosing A Webinar Platform
Ease Of Use
Budget
Number of Attendees
Reliability
Webinar Frequency
Branding
Features Needed – Do you need:

Phone call-in options
Calls to action
Whiteboard
Recordings? Replays?
Analytics needs

Integrations

Does the webinar software easily connect with your email marketing service, CRM, or calendar tools?
Also, be sure to ask yourself if you absolutely need a feature right now (you can always change platforms or upgrade later).
Webinar Platform FAQs
What Is A Webinar Platform?
A webinar platform allows you to educate, instruct, and optionally, sell to an audience through a live presentation. People commonly include slides, video, interaction like chat and polls, and offers.
How Do I Choose A Webinar Platform?
You'll want to consider the number of attendees you will have, the features you need, and your budget.
Other considerations include if you want a platform with or without downloadable software, look and feel, brand-ability, and analytics features.
What Is The Best Webinar Platform?
How Much Do Webinar Platforms Cost?
There is quite a large price range depending on how many live attendees you have and the features you need.
For the most part, prices range from $39/month to $199/month, although most people can expect to pay $129/month or less.