There are tons of different ways to promote a podcast.
Some are fairly easy and don't require a lot of effort, while some might take a bit more time.
I've tried to include a variety of different podcast marketing tactics so that you can pick and choose what makes sense for you.
I recommend choosing one or two simple podcast promotion methods (the first 2 are great starting points if you don't already do them) and then coming back to add methods to your marketing mix.
Ask People To Subscribe
Sounds simple but new subscribers are the most important factor in ranking higher in Apple Podcasts (formerly iTunes).
It also means listeners will automatically down new episodes when they're published.
Submit To Podcast Directories
Apple Podcasts is the big player but Spotify and Google are quickly gaining ground as the go-to place where people find and listen to podcasts.
It's important to have your podcast listed in as many places as possible (and they're all free).
Here are details on how to submit your show to the top directories.
Leverage Existing Assets
Mozilla puts their podcast, IRL, on their homepage that gets millions of readers:

If you have a website or email list, those are great ways to let your existing audience know about your podcast.
If you don't have either of those, there are more details about how to get started a little further down this page.
Share Reviews & Testimonials
People love to hear their name on their favorite show!
This is a simple tactic that creates a virtuous cycle of new engagement.
The example below uses a Q&A segment, but can easily be done with reviews or testimonials as well.
Here are the steps:
Ask people to tag or @ you on social when they ask questions (friends and followers will be able to find you and learn more)
People like to hear their names spoken online – so once you mention someone, they will be much more likely to share that episode
Their friends likely have similar interests and will want to check out the show
Other listers will want to have their question said aloud (and get an answer of course)
Repeat
It may take time to grow, but there are a number of benefits: It's a natural and easy way to get engagement, grow your podcast audience, and grow your social media channels – all at the same time!
Create A Website
I know many of the podcast hosting providers offer a basic website, but if you really want to grow your show, starting a blog is the way to go.
There are several reasons why:
Share-ability – it's still easier to share a blog post instead of a proprietary Apple or Google podcast link
SEO – written word (blog posts, for example) are still king on Google. That may change at some point, but for now you need to write.
Multiple audiences – there isn't always a lot of overlap between your podcast audience and your blog audience. That means you'll reach many new people by publishing both written and spoken content.
Email – in order to build an email list, you'll need your own website to send them to.
You can embed a podcast player on individual posts or display a playlist player on a more general page about your podcast (see examples of both here) so people can listen on your website as well.
Here's a guide on how to start a WordPress blog if you need help getting started.
You can also get a free domain name (the .com) when you sign up for hosting – search here:
Please enter your domain.
Please verify that you are not a robot.
Apple Smart Banner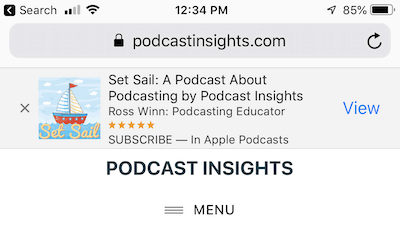 This is a relatively easy one if you have a website.
It only shows up on the mobile version of Safari. When people click 'View' it takes them directly to your show on Apple Podcasts. If they click the 'X' to dismiss it, they'll never see it again.
All you need to do is add a single line of code to the <head> of your website:
<meta name="apple-itunes-app" content="app-id=1337151390, affiliate-data=at=1000ltXT&ct=safari-smartbanner">
The format is like this:
<meta name="apple-itunes-app" content="app-id=ID-NUMBER, affiliate-data=at=AFFILIATE-ID&ct=CAMPAIGN-NAME">
Just replace the parts in all caps with your info. Your podcast ID number can be found at the end of your Apple Podcasts URL:

You can even add an affiliate ID for tracking purposes – here's a recent report of mine:

If you don't want to add the tracking info, you can just use this code instead:
<meta name="apple-itunes-app" content="app-id=ID-NUMBER">
Also of note, Buzzsprout's new podcast websites automatically include this code for you.
Create An Email List
An email list is a great way to let people know about new episodes, ask them to subscribe, do a giveaway, and more.
In order to start an email list, you'll need your own website (see above) and an email marketing provider.
My favorite email marketing service for podcasters is ConvertKit.
Be A Guest On Other Shows
People already listening to podcasts are the easiest group to get listening to your show.
Being a guest on other shows with a similar audience is a great way to get exposed to new people and make new connections.
Within the desktop iTunes app, you can find shows with overlapping audiences to yours by clicking the 'Related' tab: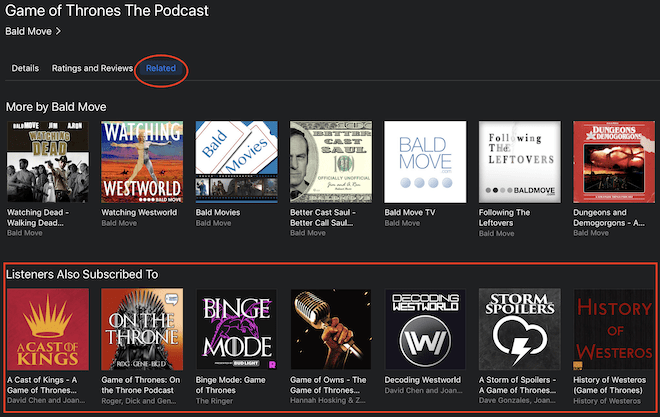 Start by seeing which of these shows have guests and reaching out to them.
You can also look at related shows to your related shows to expand your search.
Have Guests On Your Show
If it makes sense, having guests on your show can help by leveraging the existing audience of your guest.
Keep in mind that really big names don't have a lot of incentive to share the episode, but you can make sharing easy for your guest by providing them with pre-written social media quotes and images.
Buffer has some great examples of what to send podcast guests.
Do A Giveaway Or Contest
When I first launched the Podcasting Simplified Podcast (formerly the Set Sail Podcast), I did a giveaway asking people to subscribe to the show. Starting to see how these all tie together?
I simply asked people to take a screenshot after they subscribed and tag me on Twitter or Instagram.
The prizes you give away should align with your show in some way so you get relevant people (I gave away a microphone and podcast hosting). Don't just give away an iPad!
Social Media
Creating audiograms is a popular way to share short clips from your show.
Wavve is my favorite way to do this.
Headliner is another popular web app to create custom videos.
Certain podcast hosts offer the ability to create video clips. Simplecast and Buzzsprout both make it easy.
And recently Overcast came out with a new clip sharing feature built into the app: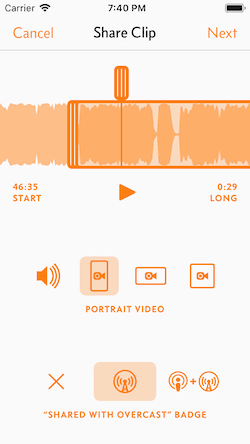 Paid Ads
Search & Social Media
On Facebook you can target by the type of mobile device. Meaning you can send people on iOS directly to Apple Podcasts and send people on Android directly to Google Podcasts.
You can also use Google Ads to target people searching for specific types of shows.
There are tons of people looking for shows…
For example, "best hockey podcast" gets 880 searches per month and the more general "hockey podcast" gets 3,600/month.
Other Podcasts
You can do either host-read ads or dynamic ads (or both) through networks like Midroll or negotiated directly with the podcast.
Overcast also has a simple ad platform that you can use to target specific podcast categories with a small banner.
Be Helpful
Join relevant Facebook Groups or forums to help others. If you have an episode that relates to a question someone has, it can be useful to mention it along with your answer.
Quora is another great place where people are looking for help.
How do you promote your podcast? Do you have other methods that have worked well? Please share with us on Twitter!