Smartphone tripods allow you to improve the quality of your recordings – for both audio and video.
When you have the phone stable, you will get more consistent and even audio (assuming you stay in the same spot as well). Video quality is also improved by the stability for obvious reasons – and you can get shots and angles you normally couldn't without a tripod.
We are going to look at the best smartphone tripods and mounts in 2023 that work with both iPhones and Android smartphones. We'll start with the best smartphone mount attachments so you can use your phone with standard tripods, sliders, and boom arms. Then we'll recommend a couple stand-alone tripods, and lastly, the best all-in-one tripod & mount solutions.
Best Smartphone Tripod Mount Attachments
Just the mount. You'll probably want a tripod too.
Square Jellyfish 
Metal Spring Tripod Mount
Square Jellyfish has several different models, but our top pick is the all metal version. It uses a spring-loaded claw and easily rotates from landscape to portrait mode. It's designed to be universal and hold phones from 2.25 to 3⅝ inches wide – large enough for an iPhone 7 Plus. The Square Jellyfish mount will also work without a tripod as well if you find yourself needing to go that route.
Joby GripTight Mount
The Joby GripTight Mount is one of the smallest quality smartphone mounts around and folds flat. It is not really designed to be used by itself – but pairs great with pretty much any tripod.
It comes in 3 different sizes depending on how wide your phone (or tablet) is:
Small Phone (2.1 – 2.8 in)
Large Phone (2.7 – 3.9 in)
Small Tablet (3.7 – 5.4 in)
Saramonic SR-BSP1
The Saramonic SR-BSP1 comes with a removable handle and the mount comes with a cold shoe to attach a mic or light. There are 3 different 1/4″ tripod mounting holes so you can position it vertically or horizontally.
It is made out of aluminum and feels like it is built to last. While not the cheapest or smallest of the bunch, this will last you a long time and fit pretty much any smartphone. The extendability with the show mount will give you options without need extra gear too.
Kenu Stance
The Kenu Stance is unique in that it uses the lightning port to mount an iPhone. The tripod folds up nice and small too.
The downside with using the lightning port is that you won't be able to use an external iPhone mic at the same time or attach it to a different tripod.
They also have USB-C and Micro-USB versions if you want one for your Android phone.
Ulanzi IRON MAN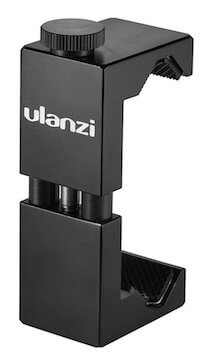 The Ulanzi IRON MAN is a universal smartphone mount machined out of a solid aluminum alloy. It will fit phones between 2.1″ and 3.75″ wide – large enough for an iPhone 6 or 7 Plus. The mounting hole is only on the bottom, but with many of the tripods you can rotate 90 degrees, so it's not a huge downside. This is another mount that is solidly built and made to last.
Best Stand-Alone Smartphone Tripods
Just the legs! I'll just recommend a few here as this is really a topic that deserves its own post, but here are some great options that are light, flexible and capable of handling other cameras as well:
Joby GorillaPod Hybrid
The Joby GorillaPod Hybrid is a great all-around tripod. This isn't their smallest tripod, but it gives you a nice balance of size and weight capability. It includes Joby's signature foldable and wrappable legs, a ball head and a quick release.
Combine this with the Square Jellyfish for the best combo.
Manfrotto PIXI EVO
The Manfrotto PIXI EVO supports a DSLR with up to a 200mm lens. The leg angle is adjustable and the legs slide out in 5 different positions. There is a ball head that can rotate 90 degrees and a smooth screw knob that makes it really easy to attach to a camera or smartphone mount. Big upgrade over the original PIXI.
Manfrotto Compact Action
The Manfrotto Compact Action tripod is an entry-level all-purpose tripod. I wanted to recommend something that is full size but light enough to carry in a pack.
Best All-In-One Smartphone Tripods
Includes legs and smartphone mount. The first 3 are basically the same as the top recommendations from the mount section, but with legs.
Square Jellyfish Jelly Grip Tripod Mount with Jelly Long Legs
The legs alone are light (0.8 ounces) and adjustable. They can fold into a handle as well. The mount is different from the one mentioned at the top of this post, but this Grip Tripod + Mount combo saves you about $5 from buying the items individually.
Square Jellyfish also offers a small tripod with ball mount.
JOBY GripTight GorillaPod Stand
This is the GripTight mount from above and the smaller GorillaPod tripod. I prefer the larger tripod (Hybrid model) but if you just want something small, this is still a great choice.
Manfrotto PIXI Smart
The Manfrotto PIXI Smart basically combines 2 products in one: The Manfrotto PIXI Mini and the Manfrotto Universal Smartphone Mount.
The mount is mentioned above and works great. The tripod is not the same as the PIXI EVO mentioned above, but it will hold some fairly heavy cameras and folds up small, making it great for a travel or backup option – especially for macro (up close) photos.
There's not anything wrong with PIXI Smart, but compared to the other all-in-one options it's limited on features for basically the same price.
LOHA
The LOHA tripod and mount doesn't have the same brand recognition as the others, but it has amazing reviews, adjusts to fit any size phone and the "octopus legs" bend to fit around objects. The phone mount has a quick release and can be used with other tripods. It comes with a ball joint that rotates 90 degrees for portrait recording. They also include a lifetime warranty.
This is a great option for anyone looking for an all-in-one smartphone tripod. Check it out!