Spotify has started to take podcasting seriously and has quickly become one of the top directories to find your favorite shows.
Because many people already use (and swear by) Spotify for music, and because they already have many integrations with home speakers (Sonos comes to mind), it's a natural extension to add podcasting.
They also are looking to take the Netflix approach and producing original content that is only available on their platform.
You want to get your podcast on Spotify because they are quickly growing and already the number 2 place for podcast downloads – although still far behind Apple Podcasts.
Bonus: Free 10-Day "How To Start A Podcast" Email Course
Just click the link and enter your email to get the first lesson:
Click Here To Get The Free "How To Start A Podcast" Email Course
Just a few of the things you'll learn:
What to podcast about
Equipment you'll need
How to record & edit
How to promote your podcast
Get started today!
They are also coming out with an API that will allow hosting companies to display Spotify-specific playback statistics.
Spotify has partnered with podcast hosting companies so you will want to follow specific steps (shown below) for your hosting company so that they can submit your podcast to Spotify on your behalf.
Below are Spotify's recommend hosting platforms as well as how to get on Spotify if you're not hosted with one of them:
Spotify Recommended Hosts
Buzzsprout
I use Buzzsprout as my podcast host and they make it really easy to get your podcast on Spotify.
In your dashboard, just click iTunes & Directories -> Spotify

If you have already submitted to Apple Podcasts, all your required info should be correct so just click the 'Submit your podcast to Spotify' button:

This will automatically pull in your podcast and account info including show title, Buzzsprout account email, and Buzzsprout RSS feed.
You'll just need to confirm everything is correct, check the box agreeing that your podcast does not contain any copyrighted material, and click submit.
Super easy!
If you want to sign up with Buzzsprout, use this link to get a free $20 Amazon gift card once you pay for hosting.
Podbean
To upload your podcast to Spotify with Podbean, you'll need to be on one of their Unlimited plans or higher and have 5 episodes published.
Then in your dashboard go to Settings -> Social Share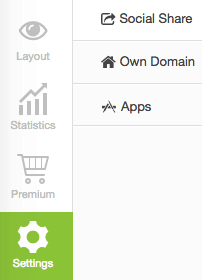 and click the 'Connect To Spotify' button.
You'll agree to all the terms and click Apply.
You can get a free month on Podbean with this link too.
Transistor
Transistor has an easy integration with Spotify. You just need one episode published first.
You'll just go to the 'Social & Apps' tab and click 'Send my show to Spotify'.
It's that simple!
Try out Transistor for 14 days free here.
Simplecast
Simplecast has a simple Google Form that requires you to fill out 4 quick fields:
Show Title
Simplecast Account Email
Simplecast RSS Feed
Is this podcast already on Spotify?
Click submit and they will handle the rest!
Try Simplecast for 14 days free here.
Spreaker
You'll need to get a Spreaker Pro account to continue if you don't already have one.
Simply select the show you want to submit, click Spotify in the navigation, and click the Submit button. More details here.
You can get a free month on any personal plan if you need a Pro account.
Blubrry
With Blubrry, you'll want to go to your dashboard and scroll down to the Distribution section.
There will be a link that says 'Get On Spotify' under Destinations:

After clicking, verify they have pulled in the correct RSS feed and click Next.
You'll need to add your Home Territory, confirm your primary iTunes Category, check a couple boxes, sign (type) your name, and click Submit: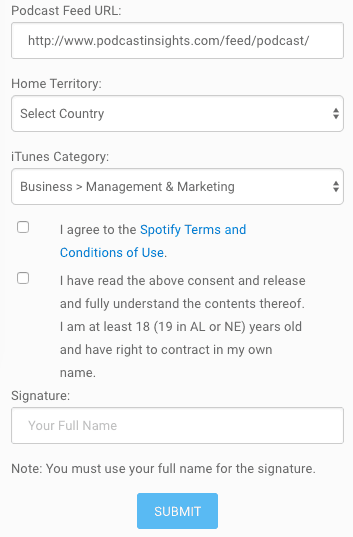 You can get a free month on Blubrry here.
Fireside
Fireside is the platform that probably has the easiest process:
Just go to the Advanced section in your dashboard and click the 'Submit to Spotify' checkbox.
That's it – seriously.
Pippa
Pippa has already integrated Spotify stats into their dashboard.
Just reach out to them through Intercom or email (info@pippa.io) and ask them to help you get your podcast submitted.
Libsyn
With Libsyn you'll basically go to Destinations -> Add New, select Spotify, and fill out the form.
They have a detailed support article walking you through the process.
Podigee
In your Podigee dashboard, select the Exports tab.
Then you'll click the checkbox next to 'Yes, I agree. Submit my podcast to Spotify.'
Podomatic
Podomatic has a help article that lists the requirements and has a 'Submit to Spotify' button.
Podcaster.de
Podcaster.de also has a checkbox you'll need to select and save under your podcast settings screen.
They submit in batches every Wednesday.
Audioboom
Audioboom used to have a support article with the process but it appears to have been taken down. They are still listed as one of Spotify's partners though.
Other Podcast Hosts
According to Spotify: "If you host with Midroll, Whooshkaa, Omny, or Art19 reach out to your aggregator for more information on how you can authorize Spotify as an additional distribution platform."
Hosting With Another Company?
If your podcast is not hosted by one of the above providers, you'll need to submit your podcast to Spotify through their new Spotify for Podcasters dashboard.
All you need to do is provide your podcast RSS feed and Spotify will automatically update in the future just like Apple Podcasts.
They also have this Google Form live that used to be the way you would submit, but it looks like you won't need to use it anymore.
They do say that submissions provided this way are not guaranteed and they strongly recommend signing up with one of the above approved and recommended podcast hosts.
Also keep in mind that as of this writing, Spotify submissions are taking longer than normal so just be patient.
Additional Podcast Directories
While Spotify is quickly becoming a popular destination for podcasts, be sure to check out this list of podcast directories.
Try to get on as many as you can so you have as many chances to be found as possible.