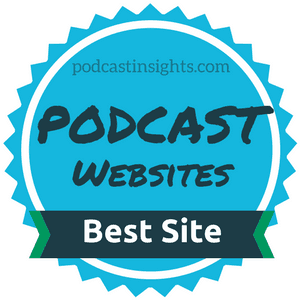 Click here if you're looking for podcast hosting websites.
2019 Update: Updated the stats and added estimated traffic numbers from a few different well-known sites.
This site (podcastinsights.com) is one of our favorites – but we might be biased 😉 There are many great resources for podcasters so we wanted to highlight them here. Enjoy!
Also, if you're looking to start your own podcasting site, check out this 'how to start a blog' guide.
Podcast Websites
| Website | Quantcast Rank (US) | SimilarWeb (Global) | Ahrefs Rank |
| --- | --- | --- | --- |
| Libsyn Blog | 3,238 | 9,702 | 1,016 |
| Podcast Insights | 5,519 | 140,799 | 93,000 |
| Buzzsprout Blog | 21,955 | 89,458 | 9,563 |
| Smart Passive Income | 35,603 | 116,820 | 11,628 |
| The Audacity To Podcast | 47,284 | 290,976 | 261,310 |
| Transom | 85,117 | 501,692 | 70,683 |
| Podcast Motor Blog | 128,133 | 1,118,353 | 629,669 |
| The Podcasters Studio | 177,947 | 1,340,674 | 930,715 |
| School of Podcasting | 193,758 | 2,556,142 | 757,763 |
| Podcast Websites Blog | 266,516 | 1,481,001 | 237,970 |
| Podnews | Not Ranked | 558,354 | 255,072 |
| Hot Pod News | Not Ranked | 2,297,964 | 338,058 |
| The Podcast Host | Not Ranked | 184,676 | 224,623 |
Data Updated 2/19/19
Congrats to all the top podcasting websites and blogs listed here!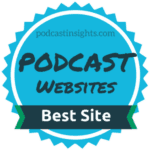 Copy This Code To Show Off Your Badge:
Quantcast is a leader in website analytics, insights, targeting, and more. They provide a list of the top 1 million sites, updated daily. Some sites measure directly with a tracking tag (similar to Google Analytics) while others are estimated and updated monthly. If there is no number for a site in the table above, that means they are ranked outside of the top 1 million. The rankings above were pulled from the top US sites on February 18, 2019.
What is Ahrefs rank? It's basically a ranking of how popular a website is based on quantity and quality of links to a site. In general, the more links you have to your site, the better your ranking. A lower number is better in this case. These rankings change daily, but I got the snapshot of everyone's site on the same day (Feb 18, 2019).
SimilarWeb provides website research and rankings. We used the worldwide global rank number for January 2019.
Note: because Libsyn has many of their customer's podcasts hosted on their website, their traffic and ranking appears to be much higher than it might normally be. That's not to say they don't have an amazing blog and podcast on all things podcasting though!
Libsyn is one of the longest-running podcast hosting companies and they have a very active blog and podcast on all things podcasting.
Pat Flynn at SPI talks about a lot of different things relating to online business, but his podcasting section has a ton of useful info, from tutorials to courses to interviews and more. He also developed the Fusebox (formerly Smart Podcast Player) WordPress plugin.
Buzzsprout is another great podcast host that has one of the better blogs in the industry. It's extremely well designed and has plenty of useful and actionable advice for any experience level.
Transom is a little broader and talks about everything broadcasting, but as podcasting has become more popular they have plenty of posts around the topic.
Daniel Lewis's headline says it all:
Award-winning "how to" podcast about podcasting to help you launch or improve your own podcast
Check it out!
Dave Jackson has been podcasting since 2005 and has a lot of knowledge to share. He has a bunch of courses to learn pretty much anything you need to know around podcasting.
The Podcast Websites blog has a bunch of info to help you grow your podcast. It was co-founded by John Lee Dumas of EOFire.
Colin at The Podcast Host has a bunch of useful guides, podcasts, courses, and resources on how to start and grow your podcast.
Ray Ortega writes and podcasts at both The Podcasters' Studio and Podcasters' Roundtable. He teaches you how to create and promote your podcast, with info and guides for anyone from pre-podcast beginners to experienced broadcasters. Check this one out!
Podnews is a daily newsletter that covers all kinds of stuff in the podcasting industry. It's growing quickly and I always find something interesting to read. Check it out!
Hot Pod News is actually a weekly email newsletter by Nick Quah that will give you the latest and greatest every Tuesday. It's also syndicated on Nieman Lab. There's also a paid membership if you really want info on the industry – it comes out twice weekly.
Podcast Motor is on our list of podcast editing and production services but they also have a great blog with a bunch of useful tips on podcasting. Everything from creating cover art to great intros to writing great show notes. They also own the Seriously Simple Podcasting WordPress plugin.
Honorable mentions:
Am I missing anyone? Let me know!