Are you looking for a great microphone (without a headset) to help you commentate your gaming recordings or live streaming on Twitch or YouTube in 2023? You're in the right place!
When choosing a stand-alone gaming microphone, you'll want something that doesn't get in your way and will easily pick up your voice. But you don't want it to pick up too much other noise from the keyboard or mouse. It's a delicate balance.
Most microphones attached to headphones or headsets have pretty poor audio quality, so let's find you something that will make you sound more professional. In fact, audio quality is much more important than video quality.
There are several different types of microphones that work well for gaming and live streaming. We'll highlight the best choices for each of these types and for a variety of budgets. Let's get into it:
Best USB Gaming Microphones
These first four microphones use a USB connection, so no extra equipment needed to hook them up. They sound great and you'll be live in minutes.
Razer Seiren Elite
Razer recently came out with this brand-new mic designed for gaming.
The Razer Seiren Elite is one of the few dynamic USB microphones available.
The reason this is great is that dynamic mics are less likely to pick up background noise (typing, hitting your desk, clicking, etc.) so your audience gets a much better listening experience.
They have included a high-pass filter that reduces really low frequencies (things like air conditioning or fans from your computer) which further improves sound quality.
There is also a gain control knob (to adjust how loud your voice is) and a volume knob to adjust how loud your headphones are. They also have a one-touch mute button that changes from green to red so there is no question which setting you're in.
Another cool feature is a light that runs around the middle of the mic that turns red when you're speaking too loud: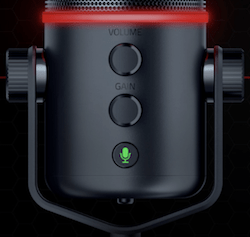 They also include a foam windshield that will you help you from overloading the mic when saying certain "p" or "t" words.
Razer really thought this one through on their remake – great work and highly recommended. Grab one here.
Blue Yeti
The Blue Yeti USB Microphone has excellent audio quality for the price. It is a condenser microphone, which means that it is more sensitive than dynamic microphones, but that's not necessarily a bad thing. You'll get the best results when you pair this mic with the Blue Radius II Shock Mount (which they sell in different colors so you can match the look of your mic) and a tabletop mic stand or boom arm.
Another thing that sets the Yeti apart is the number of features and controls included:
It includes a built-in headphone jack
This allows you to hear what the microphone hears, without any delay. You can also control the headphone volume right on the front of the Yeti.
There is a gain control
This allows you to change how sensitive the microphone is. The lower the gain, the closer you will have to be, but the less background noise you will pick up. The opposite is true as well. With the gain higher, you will be heard clearly farther away from the microphone, but it will also pick up other unwanted sounds.
You can change the pickup pattern
This is a unique feature that allows you the change where (which direction) the microphone picks up sound.
For gaming or livestreaming you'll typically want to use the cardioid pickup pattern as that picks up sound from the front, but not from the back or sides.
You have the option to change to 3 other pickup patterns depending on your needs: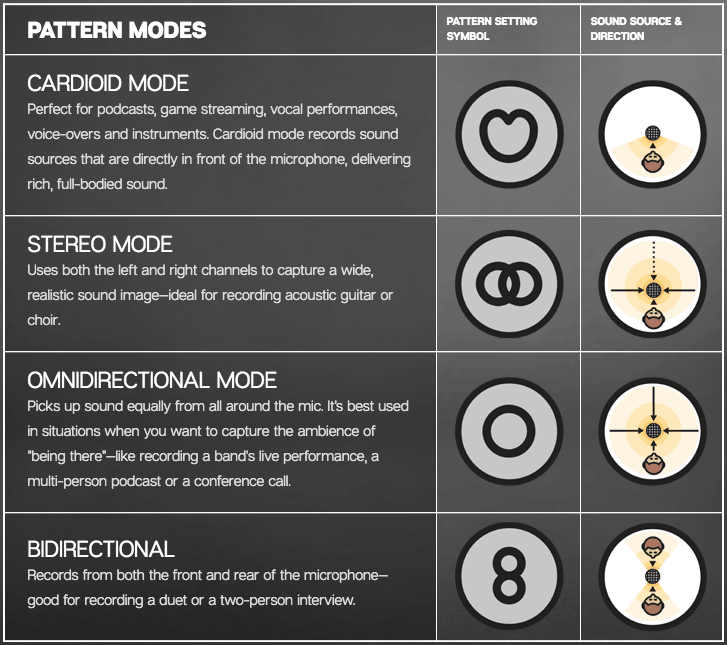 I use the Blue Yeti in the cardioid pattern 90% of the time, but it's nice to have the option to switch for in-person interviews or conference calls.
Blue even recently partnered with Ubisoft for the release of Watch Dogs 2 to create the "ultimate PC streamer bundle" so you know it works well for gaming and streaming on Twitch and YouTube Gaming.
And here are the Blue Yeti tech specs:
Microphone
Power Required/Consumption: 5V 150mA
Sample Rate: 48 kHz
Bit Rate: 16-bit
Capsules: 3 Blue-proprietary 14mm condenser capsules
Polar Patterns: Cardioid, Bidirectional, Omnidirectional, Stereo
Frequency Response: 20Hz – 20kHz
Max SPL: 120dB (THD: 0.5% 1kHz)
Dimensions (extended in stand): 4.72″ (12cm) x 4.92″(12.5cm) x 11.61″(29.5cm)
Weight (microphone): 1.2 lbs (.55 kg)
Weight (stand): 2.2 lbs (1 kg)
Built-in Headphone Amp
Impedance: 16 ohms
Power Output (RMS): 130 mW
THD: 0.009%
Frequency Response: 15 Hz – 22 kHz
Signal to Noise: 100dB
If the Yeti isn't your style and you are looking for something else, check out a few of the other top choices for the best USB microphones. We also have an article dedicated to YouTube microphones if you want some other types of microphones.
I would consider these 2 mics below just as good as the Yeti for live streaming, although you lose the ability to change the pickup pattern, they are lighter in weight and have built-in mix control which can be useful.
Here are my "runner-up" choices for USB gaming microphones:
Rode NT-USB
The Rode NT-USB is a cardioid condenser mic. It includes a pop-filter to avoid those "plosive" sounds, has a zero-latency headphone jack, and mix control that allows you to blend (or balance) the game sound (source output) and your voice (microphone input).
You'll get a 20Hz – 20kHz frequency response, a stand, and mount with a 3/8″ threaded connector so you can attach it to any other boom arm. It's also compatible with Apple's iPad and iPhone when paired with the camera connection kit.
The Rode NT-USB sounds great right out of the box and doesn't need much, if any, processing to sound great. That's perfect for gaming because you're streaming live and don't usually have the ability to do much processing.
Being a condenser microphone, it is very sensitive and will easily pick up background sound so make sure to keep the gain levels as low as possible. You can also pair it with the Rode SMR Shock Mount to reduce unwanted sound for an awesome combo.
Audio-Technica AT2020USB PLUS
The Audio-Technica AT2020USB Plus has similar features to the Rode above. It is also a cardioid condenser, includes a headphone jack, and mix control. You also get the same 20Hz – 20kHz response.
It has an excellent build quality of all metal, produces excellent sound for the price, and is highly regarded as one of the best microphones for gaming.
It comes with a stand, ring mount with threaded adapter for stands, USB cable, and a carrying pouch.
Lastly, I would avoid the more expensive AT2020USBi model because it doesn't have a headphone jack built in.
Pair with the AT8458 Shock Mount to reduce unwanted noise and improve sound quality.
Best Headset Gaming Microphones
I know I mentioned up top that we are looking at standalone gaming microphones, not headset/mic combos, but there are a couple options that actually attach to your existing headphones. Because these products are just focused on the microphone, they don't have to cut costs in order to bundle both together. That means you'll get much better sound quality – and you use any headphones you want.
Antlion ModMic 5
The Antlion ModMic 5 is completely modular, meaning you can customize it to fit your needs, and they include all the different parts so you won't have to buy anything separately. It also has 2 microphone capsules that allow you to switch between noise-canceling and studio modes.
It comes with a separate mute module, 1-meter cable, 2-meter cable, 2-meter cable wrap, 10 cable clips, 2 base clasps, a carrying case, and of course the microphone itself.
The ModMic 5 can be used with computers, smartphones, and game consoles like the PS4 and Xbox.
If your computer or console only has one 3.5mm microphone port (many laptops only have 1), they offer a Y Adapter and a USB Adapter so you can plug both a 3.5mm microphone jack and a 3.5mm headphone jack in at the same time.
V-MODA BoomPro
The V-MODA BoomPro is about half the price as the ModMic 5 and has a bit less flexibility but is a still an excellent lower-budget option for gaming.
It comes with a Y adapter and has in-line mute and volume control on the 79″ cord.
V-MODA is known for their quality gaming audio equipment and this is a great way to go.
Best Budget Gaming Microphone
Sony ECM-CS3
If you're looking for a cheap gaming microphone, there are a lot of options under $50 or so. I've seen that few sites recommend the Zalman ZM-Mic1, but if you can spare another $10 or so, I would highly recommend the Sony ECM-CS3
lavalier mic. You'll still be around $20 for a decent budget gaming microphone.
It plugs into your computer's microphone port and includes a clip that allows you to position the mic on your shirt or collar close to your mouth. The clip rotates 360 degrees, allowing you the flexibility to get it secure and still have the mic pointed the correct direction.
Like most lavalier microphones, it uses an omnidirectional pickup pattern, meaning that it will pick up sound from all directions.
Final Thoughts & Recommendations
All of these microphones pair well with a great pair of closed-back headphones. You'll almost always get better quality by using dedicated headphones and a dedicated microphone instead of using a headset/mic combo when you're looking to livestream for gaming.
If you have any questions or suggestions, feel free to leave them in the comments!