Lavalier microphones are also called lapel mics. They are small and clip to your shirt, collar or tie. The great thing about lavalier mics is that they allow you to record hands-free.
Once you have it positioned correctly, you won't even have to think about the microphone. You can just focus on the content you are producing.
Because they are small and unobtrusive, they are great for video as well and are commonly used with DSLR cameras and iPhones.
Lavalier mics are commonly used by sports anchors, news reporters, conference presenters, churches and more. They make a great option for podcasting on the go or creating YouTube videos as well.
See our top YouTube microphone picks (all different styles)
Lav mics come in both wired and wireless options, both having their pros and cons. We'll start by highlighting the best lavalier microphones in 2023 for a variety of budgets in the wired configuration.
Quick Overview: Best Lavalier Microphones
IMAGE
PRODUCT

Broadcast quality
High-quality omni-directional condenser capsule
Professional-grade lavalier mic with TRRS jack

VIEW ON AMAZON →

1/8" (3.5 mm) TRRS connector plugs
Sleek, miniature housing
Best-in-class in signal-to-noise ratio

VIEW ON AMAZON →

Best For DSLR

Rode RodeLink Filmmaker Kit

Able to constantly monitor and hop between frequencies
OLED display
Includes an omnidirectional lavalier microphone

VIEW ON AMAZON →

Sennheiser AVX – MKE2 Lavalier Pro Set

Ultra compact AVX receiver
AVX switches on and off automatically with the camera
AVX automatically sets input sensitivity for optimum recording levels

VIEW ON AMAZON →

Best For Live Performances

Unobtrusive clip-on microphone
True diversity receiver
Fully tunable over a wide range of UHF frequencies

VIEW ON AMAZON →

Operate up to 4 compatible systems
Best-in-class intelligent lithium-ion battery
Intelligent frequency management

VIEW ON AMAZON →

Interactive communication
Two-way communication, up to 150 feet from the camcorder
Shoot while still talking to each other

VIEW ON AMAZON →

Uses bluetooth technology
Generally works with any app that support a bluetooth microphone
Get great audio with your smartphone videos up to 65 ft away

VIEW ON AMAZON →
Best Wired Lavalier Microphones
Rode smartLav+
The Rode smartLav+ is one of the best lavalier mics for a smartphone. You can use it with a DSLR or audio recorder, but you may need a TRRS to TRS adapter like the Rode SC3.
The smartLav+ has great sound and build quality, which is rare for devices of this size. It is an omnidirectional condenser mic, meaning it picks up sound from all angles. It's built with a windscreen to reduce wind noise and plosives. The cable is Kevlar-reinforced and the clip is strong so you don't have to worry about it falling off.
Rode created their own iPhone app for this mic called the Rode Rec (sorry Android users, but it still works with any recording app). It comes with some standard EQ settings and the ability to export to SoundCloud and DropBox.
Interested in iPhone microphones?
If you plan to Snapchat regularly or do Facebook Live's or Periscopes, get this mic.
For people doing interviews, they just came out with the Rode SC6-L Kit that comes with two smartLav+'s and a Lightning adapter.
Shure MVL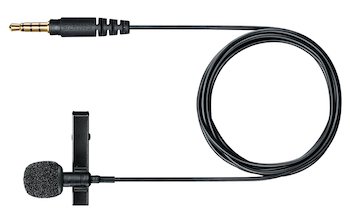 Likely the most direct competitor to the SmartLav+ above, the Shure MVL is an omnidirectional condenser lav mic with a 3.5mm TRRS connection for smartphones or tablets.
Just like the SmartLav+, you'll need a TRRS to TRS adapter to use this with DSLRs or digital recorders. You'll notice many of the poor reviews are because people weren't aware of the differences between 3.5mm inputs.
No batteries are required, the cord is about 52″ long, it has a great dynamic range, and a low self-noise level. It's really a great option for a fair price.
The frequency response ranges from 45 Hz to 20kHz and the package includes a windscreen, clip, and carrying pouch.
Audio-Technica ATR3350iS
The Audio-Technica ATR3350iS is another lav mic that is marketed as "for smartphones" but it will work with a DSLR or audio recorder as well. It comes with an adapter to plug into the headphone jack of smartphones.
The cable is nearly 20-feet long and this a big step up from the built-in phone mic for only $30 or so.
The battery lasts about a month with heavy use and it comes with a windscreen.
I've used this outdoors near a river and it barely picked up the background water sound. This is a great choice if you want a longer cable.
Giant Squid Audio Lab
Crazy name, I know. The Giant Squid Audio Lab Omnidirectional Mic gets great reviews and has great sound quality for a sub-$50 mic.
It clip is metal and strong so it will stay in place. It comes with a windscreen, although it doesn't always stay in place.
This mic uses a standard 3.5 mm microphone jack, so it's not recommended for smartphones, but works great with laptops, DSLRs and digital recorders.
Sony ECM-44
The Sony ECM-44 is a step up when compared to the previous wired lavalier mics. It uses an XLR connector, which means you'll need a mixer, USB interface, or another device (like a Zoom recorder) with an XLR input. These can easily be used both on stage or with a portable Zoom recorder.
It comes with 2 metal clips: one clip for a single mic and one clip for dual lav mics. The wire is thick and sturdy and it has the option to use battery power.
The sound quality is accurate and feels natural – although you should consider this a cross between the above "entry-level" mics and more professional models (below).
Rode Lavalier
The Rode Lavalier is a high-quality lapel mic that will give you broadcast quality audio. It uses Rode's proprietary MiCon connector system that allows you to change how you plug it in (XLR and 3.5mm stereo are common choices) as well as the option to get a 4′ or 10′ MiCon extension cable. You will need to get a connector when you purchase the microphone as it doesn't come with one.
It does come with a water-resistant storage case, pop filter, windshield, clip, and has a 4-foot cable.
I actually recommend you look at our top choice in the wireless section as their RodeLink Wireless Filmmaker Kit comes with this mic, making it a killer deal.
Audio-Technica AT899 Subminiature
Our next wired lavalier mic recommendation is the Audio-Technica AT899 Subminiature. It uses phantom and battery power, has a low profile and has amazing sound quality (don't be fooled by its small size). This mic, as well as the next few, are a big step up in terms of sound quality – and price.
The microphone is 5 mm in diameter and is easily hidden. It comes with full complement of accessories:
clothing clip
viper clip
magnet clip and lanyard (black models only)
windscreens
element covers
interchangeable single and double mic holders
This mic also uses an XLR connector and comes with a 9.8-foot cable. It is built exceptionally well – as are the accessories.
Sony ECM77B
The Sony ECM77B is another professional-level lav mic. It is an industry standard and has been around a long time. Many people use them in TV studios and for interviews.
Check out our post dedicated to interview microphones of all styles.
The sound quality is excellent – full and natural without buzz or hissing. It also has excellent frequency response ranging from 40Hz – 20kHz. It is powered via phantom power or a AA battery. The ECM77B is extremely durable and meant to be taken on the road and will withstand a beating.
If you're doing an interview show and you want something small to travel with, this is a great choice.
Sennheiser MKE2-PC
If you want to step up another notch, the Sennheiser MKE2-PC is your mic. It has a wide 20 Hz – 20 kHz frequency response, the microphone is only 4 mm wide and is water-resistant.
The sound quality is amazing and it does an excellent job of reducing background noise. This is a great lav mic for both indoor and outdoor use – in nearly any temperature – and the stainless cable is made to last.
This mic doesn't come with a clip, so you'll definitely need to get the Sennheiser MZ2 Accessory Kit for $40, but it comes with a nice padded carrying case for both the MKE2 and the accessories:
Best Wireless Lavalier Microphones For DSLR Cameras
Now we're going to look at wireless lavalier systems designed specifically for DSLR video cameras, but most of these are flexible enough for many different uses.
Rode RodeLink Filmmaker Kit
The RodeLink Filmmaker Kit is easily my favorite wireless lav mic for DSLRs. It is easy to use and set up and will sound great at 300 feet away or more, depending on line of sight and other wireless signals being used nearby. As you can see, it comes with a transmitter, receiver, and a lavalier microphone.
The microphone itself usually sells for over $200, so this entire kit being only about $400 is amazing!
It uses a 2.4GHz digital signal, has one-button pairing, is built solid, and looks great!
Sennheiser AVX – MKE2 Lavalier Pro Set
Microphone sound familiar? I recommended the MKE2 above in the wired section, but this is a wireless set designed for film. I've also recommended the AVX wireless system as one of the best handheld wireless microphones for DSLRs.
Combine all that together and you have the Sennheiser AVX Digital Wireless MKE2 Lavalier Pro Set. It uses the 1.9GHz range so it doesn't need a license and the transmitter plugs into an XLR port. They also have a version that uses the ME2 lav mic for a couple hundred dollars less.
Sennheiser XSW-D Portable Lavalier Set
Just released in January 2019, the Sennheiser XSW wireless lavalier set is almost too simple.
The size of the transmitter and receiver is much smaller than the RodeLink, but you only get a simple LED light to indicate if it's paired.
Either way, it's small, sounds great, and is really easy to use, making it easy to throw in your camera bag.
This set includes a ME2-II clip-on lav mic – which you can use without the wireless system if you want. You can also get the same system without the microphone for $50 cheaper.
Up to 5 separate devices can be used at once (in the same location), but you'll need a transmitter and receiver pair for each device.
Saramonic Dual Wireless Lavalier Microphone Bundle
The Saramonic Dual Wireless VHF Lavalier Microphone Bundle comes with 2 transmitters, 2 receivers with lavalier mics, and an audio mixer for DSLR cameras. As you can see, the antennas are fairly long, so you will need to make sure they can be hidden and kept out of your shot.
It's not the highest quality equipment, but it works well and is a great value.
Best Wireless Lavalier Microphones For Live Performances
I've recommended several handheld wireless microphones, so I'm going to try to recommend wireless lavalier microphones that would complement the suggestions there. They will use the currently, as of 2018, allowed frequencies and match the frequency ranges I've suggested before so you can easily build out a live wireless system.
Sennheiser XSW 2-ME2-A
I recommended the handheld version in another post. The Sennheiser XSW 2-ME2-A is the wireless lapel version that would fit right in. You can mix and match up to 12 of these (they also have headset, instrument, and a handheld condenser option) and it has automatic frequency management and sync, along with being rack mountable.
Shure GLXD14/93
I'm a big fan of Shure wireless systems, and the GLX-D series D14/93 is a digital 2.4GHz system with a range of up to about 200 feet. The WL93 microphone is an omnidirectional condenser lavalier and has a windscreen. The bodypack uses an intelligent lithium-ion battery that can be used for up to 16 hours at a time.
There is also a GLXD14/85 that uses the WL185 cardioid lav mic which is great to reduce ambient noise.
Sennheiser EW 512 G3-A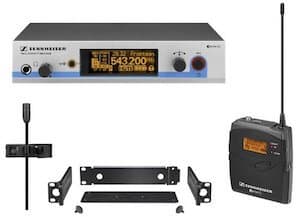 The Sennheiser EW 512 G3 also uses the MKE 2 lapel condenser microphone. There is an auto-lock function so you can't accidentally change the settings, a battery indicator on both the receiver and transmitter, and automatic frequency scanning. There is also an Ethernet port for connection to Sennheiser's Wireless Systems Manager software.
Many people also swear by the Countryman B6 lav mic which is compatible with this receiver.
Best Bluetooth Lavalier Microphones
Bluetooth audio is more compressed than other wireless formats, but for vlogging and less pro-level recording, these wireless Bluetooth lav mics will work great.
Sony ECM-AW4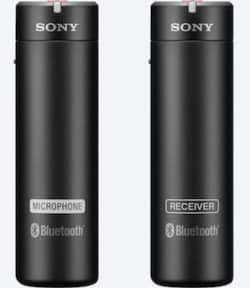 The Sony ECM-AW4 is a Bluetooth lavalier mic kit that offers clear audio for use with anything with a 3.5mm mic input, including digital recorders and DSLRs.
It has a built-in microphone, but you can also plug in any 3.5mm TRS microphone (like the Giant Squid above, for instance) if you want to use a better mic. If you plug in an external mic, handling noise will be greatly reduced as well.
It also comes with 2 earpieces for monitoring, TRS cable, pouch, and strap.
Hey Mic!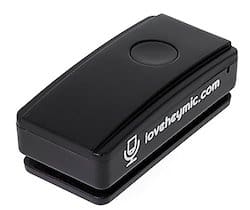 The Hey Mic! will work with any device that can connect and record with Bluetooth.
Pretty much every smartphone has Bluetooth, so this is a great option to have a wireless lav mic for your iPhone or Android.
On an iPhone, you may need to use a 3rd party video recording app that lets you use the Bluetooth connection as the input device.
Wireless Lavalier Mics For Smartphones
Comica CVM-WS50
I recently found this awesome combo that includes a tripod, transmitter with clamp, receiver, and lavalier mic.
Check out the Comica CVM-WS50 on Amazon.
They also have a model for about $30 more that includes a handheld Bluetooth remote.
Rode Wireless GO
Out of the box, the brand new (April 2019) Rode Wireless GO is set up for DSLRs or audio recorders, but if you get the SC7 cable it'll work great as a wireless mic for an iPhone or Android!
It has a built-in microphone and a 3.5mm TRS input with plug-in power so you can use any of your wired lav mics as well.
There are 3 adjustable gain settings (0dB, -6dB, and -12dB), an easy-to-read LCD screen, USB-C ports for charging and firmware updates:
In the box you also get 2 furry windshields, an SC2 coiled TRS cable, a USB charging cable, and a pouch to make carrying everything easy.
Samson Go Mic Mobile Lavalier System
Samson also has great kit if you need a wireless lavalier mic for your iPhone or Android.
The Samson Go Mic Mobile Lavalier System includes all the cables you need to connect to either a smartphone or DSLR.
It uses the 2.4GHz digital spectrum, works up to 100 feet, and has an optional handheld mic you can get too.