The Blue Yeti microphone works great in many recording situations and offers a ton of useful features for the price.
The Blue Yeti USB microphone has been the most popular USB microphone in the last several years, but I wouldn't recommend it to everyone.
In this Blue Yeti review, we're going to take a look at all the features, sound quality, and let you know who it's best for.
You'll also get recommended accessories to make the Yeti even better.
Blue Yeti Features
Polar Patterns
One of the stand-out features of the Yeti is the ability to change polar patterns.
Blue uses a proprietary tri-capsule microphone array that allows you to switch between 4 different polar patterns, customizing how the Yeti picks up sound.
They are Cardioid, Omnidirectional, Bidirectional, and Stereo:
Cardioid Mode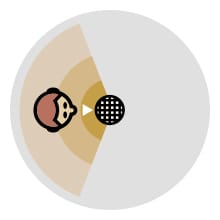 Cardioid mode is the one that most people will use. It is perfect for podcasting, gaming, streaming, webinars, or calls – and focuses the pickup pattern to the front.
Omnidirectional Mode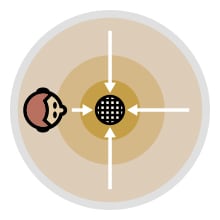 Omnidirectional mode picks up sound from all directions equally. It will sound more distant, but is great for conference calls or other situations where sound quality isn't critical but you need to record multiple people.
Bidirectional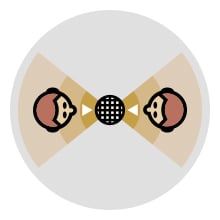 Bidirectional is great for interviews, although using one microphone is not going to be the best option.
If you're regularly doing in-person interviews, I'd recommend looking into the 2+ person kit here.
Stereo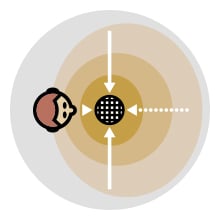 Stereo mode can be a good choice if you need clear separation of left and right channels – and will also work well for recording instruments, although cardioid is usually a better choice.
Other Features
Headphone jack and volume control
No matter which USB mic you end up getting, make sure it has a headphone jack.
This allows you to monitor your recording or streaming without delays.
A nice touch with the Blue Yeti is that it has a headphone volume knob right on the front.
Gain control
Gain controls how sensitive the microphone is. This is controlled by a dial on the back.
Most USB microphones don't include this and require you to adjust gain levels with software, which can difficult to do during a recording.
When people start getting loud, it's nice to be able to quickly turn the gain down so you don't peak and overload the mic. If that happens you can't fix it with software later.
Mute button
The mute button is another nice feature not found on many other USB mics.
It also has a red LED that goes from solid when not muted to flashing when muted so you know which position it's in at a glance.
USB Plug-n-play
You won't need software or drivers to use the Blue Yeti. Just plug the included cable into a USB port, select it in your audio settings, and start recording.
Blue recently came out with software that lets you get updates and adjust settings (see Blue Sherpa below) but it's optional.
Stand
The stand that comes with the Blue Yeti is nice and solid. It allows you to rotate the position of the mic, but since you should really be speaking from only a few inches away, I would skip the stand and get a boom arm or mic stand right away.
Check out the accessories toward the bottom of this review.
Size & weight
It's important to realize that the Yeti is a heavy microphone. Because of that, it won't work with just any stand. Then add the weight of a shock mount and it's no joke!
Blue Sherpa Software
Blue Sherpa is free desktop software that lets you update any of their USB mics, control settings such as gain and pickup patterns.
With the Yeti microphone, I was able to update firmware, control gain, monitoring volume, headphone volume, and mute: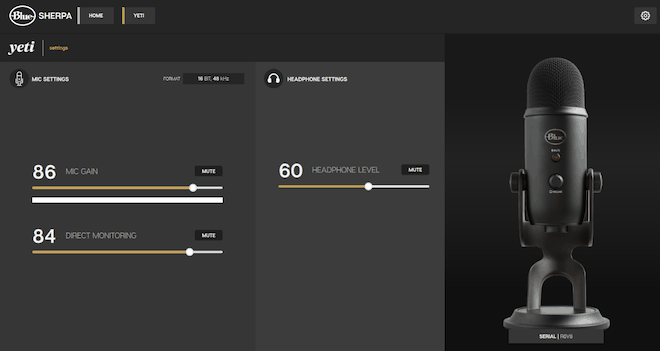 Final Thoughts
Even though the Blue Yeti tends to be popular with beginners (it was the first external microphone I bought), I find that it performs much better in the hands of someone slightly more experienced with audio recording.
For one, you see a ton speaking into the wrong part of the microphone, so Blue Microphones actually provide this graphic to show you how to use it: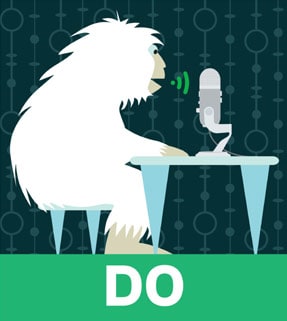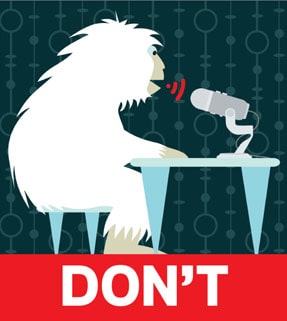 If you want the flexibility to record in different polar patterns, have onboard gain control, and have a quiet space to record, the Yeti is a great choice.
If you don't see yourself using the different pickup patterns, there are better choices for a USB microphone to stream or record.
Because of its sensitivity, no matter where you record I highly recommend pairing it with a shock mount and a quality boom arm. See the Accessories section below.
As for the price, it's MSRP is $129.99 US, but it's frequently on sale for less or offered as a bundle. You can also check different colors as the price can vary between them.
My Rating: 4.5/5
Blue Yeti Accessories
Best Deal: You can get the Blue Yeticaster bundle that comes with the mic, boom arm, and shock mount at a big discount.
We have a separate post that highlights various Blue Yeti accessories to improve the audio quality of your mic, so we'll just list the best ones here:
A shock mount will prevent a lot of sound that you don't want from traveling into the mic.
Things like typing, tapping on the table or stand, bumping your desk, and more will be amplified because they don't have to travel through the air.
There have been a few versions of the official Radius shock mounts over the years.
The latest is the Radius III, which is smaller and lighter than the Radius II – and a better looking in my opinion.
Keep in mind that you'll have to get a stand of some kind (like the one below) in order to use this.
The Compass Boom Arm is a relatively new product from Blue.
It's designed to hold the weight of the Yeti easily, is easy to adjust, and looks great.
A boom arm will also help you position the mic in the perfect spot quickly – and then get out your way when you're done recording.
I've said this before but a boom arm is easily the best investment you can get for any mic.
This simply sits over the microphone and helps prevents plosives.
What are those? Just put your hand in front of your mouth say "I want a PopGard"
You should feel a burst of air right when you say the "P" – and this will help that from overloading the mic capsules.
Official Blue Yeti Specs
Microphone
Power Required/Consumption: 5V 150mA
Sample Rate: 48 kHz
Bit Rate: 16-bit
Capsules: 3 Blue-proprietary 14mm condenser capsules
Polar Patterns: Cardioid, Bidirectional, Omnidirectional, Stereo
Frequency Response: 20Hz – 20kHz
Max SPL: 120dB (THD: 0.5% 1kHz)
Dimensions (extended in stand): 4.72″ (12cm) x 4.92″(12.5cm) x 11.61″(29.5cm)
Weight (microphone): 1.2 lbs (.55 kg)
Weight (stand): 2.2 lbs (1 kg)
Headphone Amp
Impedance: 16 ohms
Power Output (RMS): 130 mW
THD: 0.009%
Frequency Response: 15 Hz – 22 kHz
Signal to Noise: 100dB
And here's the official promo video: