The Blue Yeti microphone is one of the most popular microphones for podcasting, gaming, YouTube, and any other type of recording you typically do in front of your computer.
It's an excellent microphone out of the box – it's our top pick for USB microphones and gaming microphones – but there are a few things you should get to increase your audio quality and make it easier to use properly.
Update: You can get the brand new Blue Yeticaster Bundle that includes the Blue Yeti, Blue Radius III shock mount & Blue Compass boom arm – and you save a bunch by getting them together!
Check out the top Blue Yeti accessories here:
Blue Yeti Microphone Stand
As mentioned in our Blue Yeti review, I highly recommend getting a microphone stand or boom arm for your Blue Yeti.
This will make it much easier to position the mic right in front of your mouth, as the included stand isn't tall enough for most situations.
Blue Yeti Boom Arm
If you go with a boom arm, it will clear up space on your desk and make it much faster and easier to start recording. I find this is a huge benefit because it eliminates any excuses you might have to start recording.
The Yeti is one of the heavier mics out there so you'll need to keep that in mind when choosing a boom arm. Some of the cheaper models struggle to keep the mic in place, especially when fully extended.
Blue Compass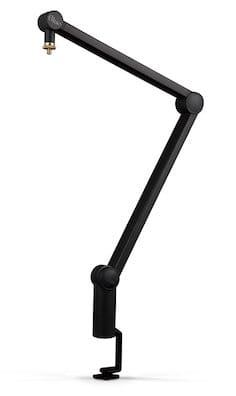 The Blue Compass is brand new (as of March 2018) from Blue and their first boom arm. This is a high-quality accessory that includes hidden cable management, hand-tightened springs, and 360-degree rotation.
It can hold 2.4lbs (enough for the Blue Yeti plus a shock mount) and is designed to clamp to your desk like all the boom arms recommended here.
At $100, this is an excellent product and it's exciting to see Blue come out with new products.
Heil PL-2T
I currently use the Heil PL-2T with the Blue Yeti and it works great. This is one of the sturdier scissor boom arms in this price range (around $100-$120), it has built-in cable management so you can hide the cable in the arm, giving everything a nice clean look. It can easily support the Yeti along with a shock mount and pop filter even when fully extended. It also rotates 360 degrees.
Rode PSA1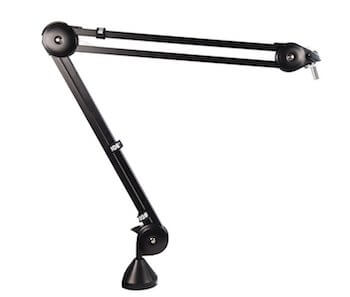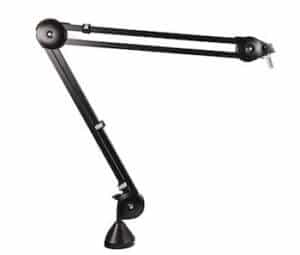 The big difference with the Rode PSA1 is that there is no internal cable management, but otherwise, it's an excellent boom arm for the Yeti and other mics.
DuaFire Swivel Mount Studio Boom Arm
These guys seemed to have copied the designs above, but they say the arms will support a Blue Yeti with a shock mount – at about half the price. Their description says it will hold up to 1.32 lbs (600g). Check out the DuaFire Swivel Mount Boom Arm here.
Blue Yeti Desk Stand
A desktop mic stand for your Blue Yeti is a great choice if you want something that costs a bit less than the booms above. They still allow you to get great mic position and give you the ability to add a shock mount (see the next section for a few recommendations).
On Stage DS7200B
The On Stage DS7200B is a really basic tabletop mic stand and although not my top choice for the Blue Yeti, it will give you the ability to add a shock mount and a little extra height. The height is adjustable from 9″ to 13″.
Proline MS112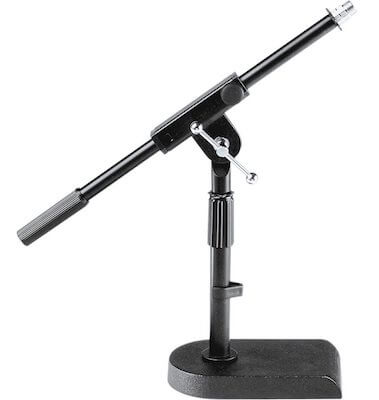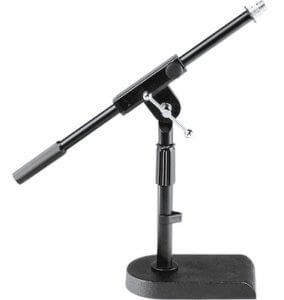 The Proline MS112 is is a very popular desktop mic stand for podcasting. It's heavy enough to support the Yeti without worrying about it tipping over.
Gator Frameworks GFW-MIC-0821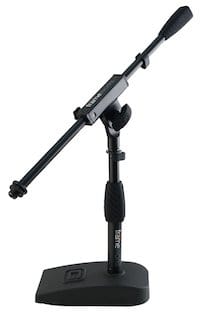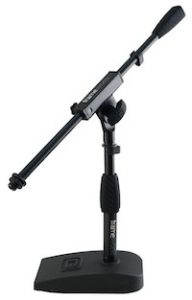 Gator Frameworks is well-known for mic stands and this one is worth it. You get cable clips and the height is adjustable.
Blue Yeti Shock Mount
A shock mount will reduce vibrations from traveling into the microphone and greatly improve sound quality.
Does the Blue Yeti need a shock mount? Maybe not, but if you ever try to type or accidentally tap on your desk, that sound will be picked up.. loudly, so I highly recommend picking up a shock mount for the Blue Yeti.
Because of the Yeti's unique shape, most universal shock mounts won't work and you'll need something specifically designed for it:
Blue Radius III
The Blue Radius III is another brand new release from March 2018. Compared with Radius II, the Radius III is lighter and lower-profile, making it easier to use on-camera (or off).
Personally, I like the look of the new Radius III better too – what do you think?
Blue Radius II
The official shock mount from Blue is the Radius II. They offer it in silver, black, and white to match the most popular colors. It can be used in any orientation with both the Yeti and Yeti Pro.
Auphonix Aluminum Shock Mount
If you don't want to pay a premium for the official shock mount, grab the Auphonix Aluminum Shock Mount for the Blue Yeti. It costs a bit less and is a little smaller in size, but still works great.
Blue Yeti Pop Filter
Blue The Pop Universal Pop Filter
Blue also has their own pop filter call The Pop. It is made of all metal and has a nice weight to it. Metal screen pop filters like this one tend to work the best. You'll pay a premium for the brand name, but it works well.
WindTech PopGard 2000
The WindTech PopGard 2000 is the pop filter you want to get! It attaches with elastic bands and wraps around the microphone. I like this one because it sets up quickly and you won't have to adjust it like some of the others. It fits the Yeti and other large microphones as well.
Auphonix 6-Inch Pop Filter For Blue Yeti
If you don't want to pay a bunch for a brand name, this Auphonix 6-inch pop filter will definitely get the job done and it's plenty big enough to cover the Yeti's mic capsules. The double mesh screen stops harsh air and "p-pops" from getting through but allows your voice to come through nice and clear.
Professional Foam Windscreen for Blue Yeti
One more option is this Foam Windscreen for the Blue Yeti. It sits right over the microphone and is offered in a few different colors.