You're starting a podcast and are wondering "what's the best microphone for podcasting?"
The good news is that for most people, that answer is easy: get the ATR2100x-USB here.
But where things can get a little tricky is when you need to record multiple people, or maybe you want something a bit more on the pro end.
Don't worry though, we'll try to make it easy (and not list 300 different options that just make you more confused) so you can get what you need and get back to podcasting!
The first thing you need to know is there are two ways to connect a podcast mic to your computer: USB and XLR.
USB is fast and easy to set up and great if you only need to record one microphone at your location.
Remote guests are fine, but you'll want to avoid USB if you need to record 2 or more people locally.
See our Best USB Microphones article here.
XLR connections require additional equipment to connect them to your computer, but the sound quality is better. You'll also be able to connect more than one mic at the same time.
Take a look at this list of USB audio interfaces to find one that will fit your needs.
See our Best XLR Microphones article here.
Now that we have that cleared up, here are the best podcasting microphones – we'll start with USB and then go into XLR:
Best USB Podcasting Mics
These USB mics are great for lower budgets or those that want the easiest way to start a podcast in 2023.
ATR2100x-USB
I've recommended the Audio-Technica ATR2100-USB in many other articles and now there is a new version! The ATR2100x-USB updates the quality and now uses USB-C.
It performs well above its price point, has both USB and XLR connections, and is small enough to travel with if needed.
See our ATR2100 review for more details.
Pair with Knox Shock Mount for Audio-Technica ATR2100-USB.
Samson Q2U
The Samson Q2U is basically the same mic as above. I've had reports that you can't seem to get the ATR2100 outside the US, so this is what I would get if that's the case.
It comes with a stand, windscreen, USB and XLR cables.
Rode NT-USB
The Rode NT-USB is a cardioid mic (ideal for voice recording) that comes with a pop filter, tripod, boom mount, a 20′ USB cable, and a travel pouch.
Best XLR Podcasting Mics
Most people will want a dynamic mic, especially if you are recording multiple people in the same studio, so that's what you'll find in this section. We do have a separate article on condenser microphones if you're interested in learning more about what's available.
Rode PodMic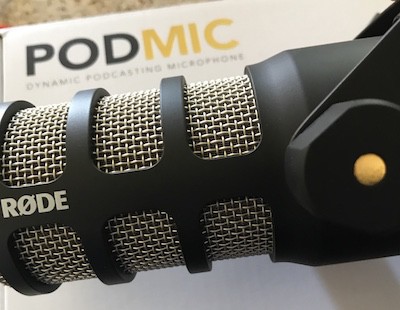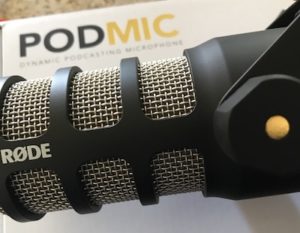 The Rode PodMic is my favorite XLR podcasting mic under $100 (see the review).
This dynamic cardioid mic has an internal pop filter and shockmount to help get the best audio quality in a simple and small package.
You'll want to get a boom arm for the best results.
Rode Procaster
I actually have 3 of these and love them. The Rode Procaster does tend to need a little extra gain to not sound noisy.
When compared with other mics, the frequency range of 75Hz – 18kHz doesn't seem like it quite compares but the results have been great.
Pair with:
Heil PR-40
The Heil PR-40 is used by many top podcasters.
Its price point puts it just below the higher-end mics below, but the sound quality and specs more than compare.
You'll get a 28Hz – 18kHz frequency response, internal shockmount and pop filter, and a padded case for safe transport.
Shure SM7B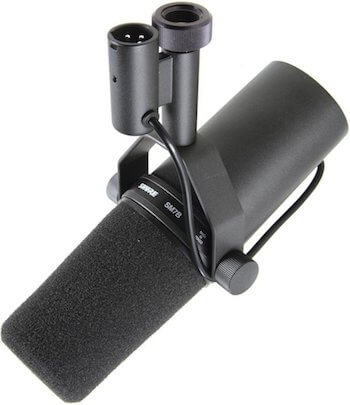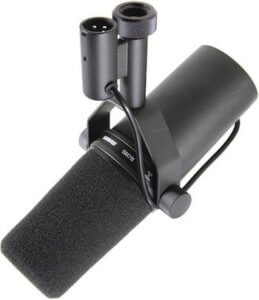 You'll find the Shure SM7B in Joe Rogan's podcast studio – as well as many others.
This is a classic broadcasting mic and performs really well. With a built-in shockmount and pop filter, and a frequency range of 50Hz – 20kHz, you'll never need to upgrade or get additional accessories.
You will need a Cloudlifter or preamp to power the SM7B as it is notoriously "gain-hungry".
Electro-Voice RE20
The Electro-Voice RE20 is another classic broadcasting mic. It has a feature called Variable-D that gives you some flexibility with your mic technique, making it great for both beginners and pros.
Pair with:
Mobile Podcasting Mics
Planning to podcast on the go? There are several small mobile mics that sound much better than any built-in microphone you might have.
There are also some great iPhone mics and Android mics if you want to go that route as well.
Samson Go Mic
The Samson Go Mic is a great cheap podcasting mic (under $30) and is designed for travel.
It can clip to your laptop or simply sit on your desk, folds up small, and can switch between cardioid and omnidirectional pickup patterns.
Comes with a travel case and USB cable.
Blue Snowflake
The Blue Snowflake is another cheap podcasting mic (also under $30) designed for use on the go.
It can be used on top of a laptop or on a desktop, folds into itself for compact carrying, and comes with a USB cable.
Final Recommendations
What about the Blue Yeti? Well, it's not really the best choice for podcasting. We do list the Blue Yeti as a top choice for gaming and streaming mics, but when it comes to podcasting, you'll want something that minimizes background noise.
Other great podcasting microphones not highlighted above include the Audio-Technica BP40, Telefunken M82, and MXL BCD-1 (these are all dynamic mics with XLR connections).
The best mic for podcasting is the one you have with you, so don't let our recommendations stop you from recording if you don't have exactly what we recommend.
Every podcaster has different needs and varying quality of recording space, so don't be afraid to experiment and see what works for you!