The main purpose of a podcast host is to have a place to upload and store your podcast episodes.
They also provide an RSS feed that you'll submit to Apple Podcasts and other podcast directories so people can listen and subscribe.
We're going to compare a few of the more well-known companies (and if you're considering SoundCloud, just stop now, it's not good for podcasting) in the space today among a variety of features: ease of use, price, stats, storage, and more.
I've used all these services (and tested many more) and talked to people at each company.
If you want to save some time comparing Libsyn, Blubrry, and Buzzsprout and are planning to start a podcast, I would choose Buzzsprout in 2023.
Buzzsprout
See our full Buzzsprout review
Ease Of Use
One of the standout features with Buzzsprout is that you don't need to mess with ID3 tags (basically metadata that goes into your MP3 and is then read by iTunes). Blubrry and Libsyn will tag your files for you, but you need to input that info.
This one feature alone will save you a ton of time.
It's also clear that Buzzsprout cares about design and ease of use, which doesn't seem to be the case with Blubrry or Libsyn.
Personally, I want the platforms I pay and use to not only work well, but look good and not be confusing. Maybe that's just me though 😉
Getting around the dashboard and accessing various features is intuitive. There is no need to go hunting in the help files to figure out "where your RSS feed is" for example.
They recently added the ability to get and edit transcripts for your episodes right in the dashboard with one click – pretty cool!
Storage & Price
Instead of limiting your uploads by megabytes (MB), you get a bucket of hours you can upload per month.
This is much more intuitive to podcasters (especially those just getting started) as you easily know you are doing four 1-hour episodes per month, for example.
How many MB is that? Your guess is as good as mine!
Pricing starts at $12/month for 3 hours, then goes up to $18 for 6 hours, and $24 for 12 hours.
Pricing is comparable with Libsyn and Blubrry for the most part, with the larger plans being a much better value.
They also have a lifetime free plan, with a catch: your uploaded episodes will be removed after 90 days.
Many listeners want to hear the old episodes, but if you don't mind only having recent episodes on your feed, this is an option as well.
Embed Player
Buzzsprout offers both an episode and a show (or season) player. You can customize what info is shown, the colors, sharing buttons, and more: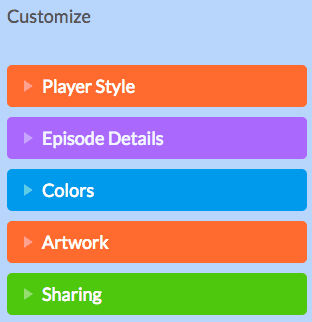 Here's what the individual player looks like: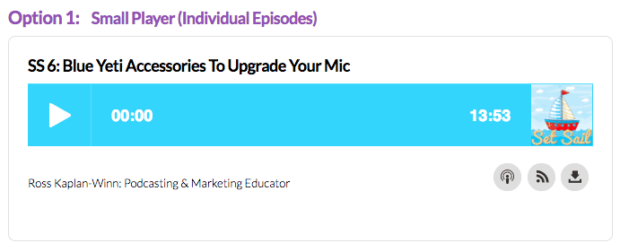 You can add & remove the show title, episode title, author, share buttons, and artwork.
Stats
Buzzsprout's stats is where I would like to see some enhancements.
They developed a proprietary "Listeners" metric that estimates how many people will listen in the next 90 days. This isn't an industry-standard metric by any means, but it's a great way to track your growth with a single number.
You can see individual episode stats, but the graph goes back to your publish date on that episode. There isn't a way to easily see that specific episode over the "first 30 days" for example, which is a number that advertisers want to know.
The download sources are limited to 7 buckets as well, so you might have a large "other" category: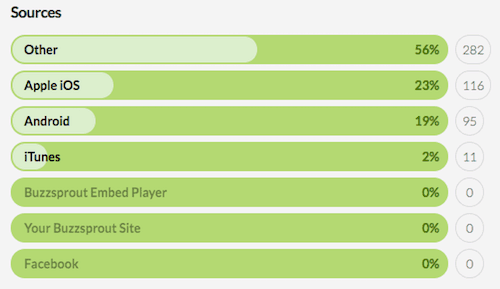 Verdict
Best for most people
Sign up and get a free $20 Amazon gift card here.
Blubrry
Ease Of Use
I'll say that after the initial setup, Blubrry is really easy to use if you plan on managing everything from WordPress. It's the same process as adding a new blog post.
You'll simply use their PowerPress WordPress plugin.
Setup can be a little complicated (or at least confusing) but once it's done, you usually don't have to mess with it again.
They do have an "easy" mode and a more advanced mode though.
Storage & Price
Pricing starts at $12/month for 100MB upload allowance per month. The other plans are $20/month for 250MB, $40/month for 500MB, and $80/month for 1,000MB.
They have what's called a "no-fault" overage so you can actually upload more than your monthly allowance by a generous 25%. So 100MB is actually 125MB.
Every plan except for the smallest one includes video podcasting as well.
Embed Player

When you use the PowerPress plugin, the embed player will be automatically added to each episode's post (or show notes). This makes the process really simple.
You can also customize the colors to match your branding.
It has options to change playback speed, skip forward and back, download, subscribe, share, and more.
Stats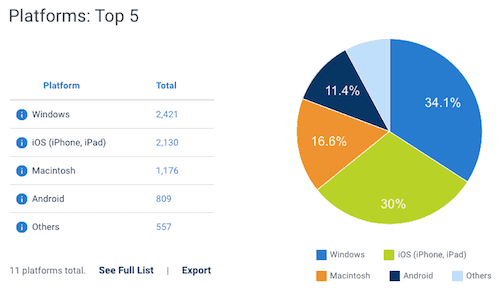 Blubrry offers advanced podcasts statistics with every plan.
You can see data over time, platforms, geography, referring sites, and a ton more.
Compared with Libsyn, this is a great feature as you don't need to pay extra or be on one of their higher-tier plans.
Compared with Buzzsprout, you can see a bit more detailed data over time (by month, for example).
Verdict
Best for intermediate to advanced users on WordPress
Sign up and get a free month here (or use Blubrry promo code INSIGHTS)
Libsyn (Liberated Syndication)
Ease Of Use
For the longest time, people used to only recommend Libsyn, but a lot has changed in the last couple years.
Libsyn has a ton of features, which for some might be a plus. I don't think piling on features is necessarily good for most customers, especially new ones.
For one, they can provide you with an iOS or Android app for your show for an additional $10/month.
Sounds like a cool bonus feature, but do you really want to compete with Apple, Google, or any of the other excellent podcast listening apps? I wouldn't recommend it.
Their dashboard is full of buried features and requires lots of clicks to get anything done. Time for an update?
Storage & Price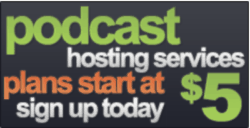 Libsyn has a plan for $5/month (and advertisers that from their home page) but you only get 50MB of upload space per month, which is tiny. You also have to pay an extra $2/month for 'basic' stats.
The plans most people want are the $15 or $20/month options:
The $15/month plan comes with basic stats and 250MB storage
The $20/month plan comes with advanced stats and 400MB storage.
Embed Player
You can customize the colors on the Libsyn embed player. It has rewind, skip, share, embed, and other buttons.
Not a bad-looking player, although they give a lot of prominence to their brand. Not a huge fan of that when you're paying a company.

Stats
Libsyn definitely has detailed stats among a ton of different metrics.
But I had a conversation with a host of the Bigger Pockets Money podcast and was told that Libsyn's stats were not counting correctly for years (they were double and triple counting downloads). So when they did an update to correct it, their download counts were suddenly cut in half or worse.
Yes, it's more accurate now, which is great. But does that mean people were unknowingly providing false download numbers to advertisers? Doesn't give me a lot of confidence. You decide.
Verdict
Pass (unless you need the ability to have different feeds for each directory)
They recently acquired the web hosting company pair Networks and seem to be diversifying their hosting capabilities. It will be interesting to see how they complement (or distract from) each other.
Also of note, Libsyn's parent company, FAB Universal, failed to report the issuance of $16.4 million worth of bonds, and has since settled "denying any wrongdoing" (pretty standard in an SEC settlement). Not a minor infraction for a public company, but I'll let you be the judge.