So you've created your podcast, but you're only getting a few listeners. How can you get more? One of the most important steps to increase your podcast's reach is to distribute it to additional places that people are listening from or places where people are looking for podcasts to listen to.
The most popular place to distribute your podcast is Apple Podcasts, but there are several other large sites that can get you a lot more listeners. There are also podcast directories that you can submit your podcast to so you can be found more easily.
Haven't Launched Yet?
Get The Free 10-Day "How To Start A Podcast" Email Course
Just click the link and enter your email to get the first lesson:
Click Here To Get The Free "How To Start A Podcast" Email Course
Just a few of the things you'll learn:
What to podcast about
Equipment you'll need
How to record & edit
How to promote your podcast
Get started today!
Many podcast listening apps and directories automatically update from the iTunes API as well, so you may find your podcast listed on sites without submitting.
To be clear, these are not places where you host your podcast. These sites just read an RSS feed that is created automatically by your website or podcast host. Check out the best podcast hosts for sites that store your actual audio files.
Need your own website? Learn how to start a WordPress blog and check out the best WordPress hosting companies.
Let's start with the "big 5" and then we'll list other popular directories and sites to get found on…
Top Podcast Directories
You'll want to submit your podcast to all of these top directories as a starting point. Many people will subscribe on these sites so if you're not there, they won't be able to. They also act as podcast search engines so people will be able to find you by your title and description.
iTunes / Apple Podcasts

iTunes is the big player in the podcast space. No surprise there!
You have to be on Apple Podcasts/iTunes if you want your podcast to be found by most people. You'll need an iTunes account and it can take up to a few weeks to get listed, but in my experience, it only takes a few days. They require your podcast cover art to be at least 1400 x 1400 pixels as well.
You sign up through Podcasts Connect (formerly iTunes Connect).
Here are more detailed instructions on how to get your podcast on iTunes.
Spotify
Spotify has recently opened up its platform to more podcasts lately and it has quickly become the number 2 destination for listening.
The best (and recommended) way to get in is to be on one of the top podcast hosting sites.
I use Buzzsprout and they have a simple form you can fill out after you get signed up. After that, they will do the work for you.
Check out this post for detailed submission information for every platform.
Google Podcasts
Google Podcasts is relatively new but is important because it will allow your show to be playable in Google Search results: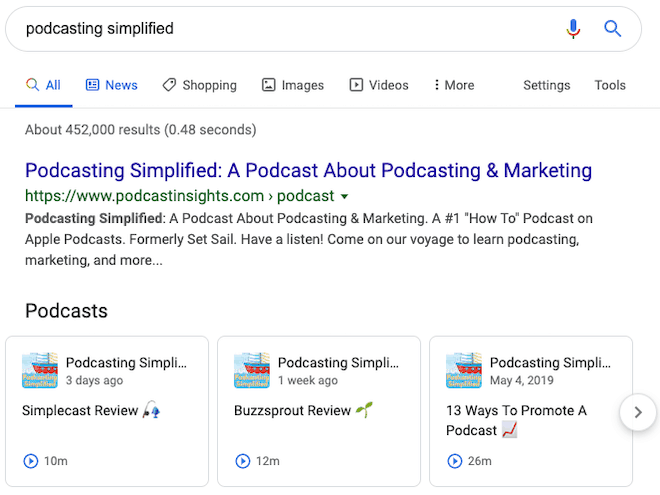 You don't actually submit your show to Google Podcasts. It works similarly to how web pages get found by Google crawling the internet.
To get listed in Google Podcasts, you'll need to make sure to "link" to your RSS feed and that your RSS feed "links" to your website. I put link in quotes because the link is actually hidden in the code of your website.
Many podcast hosting platforms will do this for you automatically if you use their built-in websites, but here are the guidelines for Google Podcasts if you want to do it on your own site.
You can check if you are already listed by putting your RSS feed in Google's Podcast Publisher tool. This will also allow you to get a direct link to your show.
Stitcher
Stitcher is a popular podcast directory and podcast app with more than 8 million registered users and more than 65,000 podcasts. It's a place you absolutely want to get your podcast listed.
They have their own stats for downloads, listens, listening time, and monthly active users, Stitcher rank, completion rate, and more. The company was recently acquired by Midroll, the popular podcast advertising network.
You'll sign up as a content provider through their Partner Signup page.
TuneIn
TuneIn is another popular podcast app and directory. It's available on pretty much every platform and device.
To add your podcast, you simply fill out their podcast submission contact form.
More Podcast Directories
It definitely doesn't hurt to add your podcast to these sites. I would recommend submitting to as many as you can.
Spreaker
Spreaker has a little bit of everything for podcasters: a podcast app, directory, podcast hosting, desktop software, and more.
You can create a free account and import your RSS feed to get started. They also have a partnership with iHeartRadio and you can submit your show there through Spreaker's portal.
Google Play Music

Google Play Music used to be the main podcast directory for Google, but they have essentially replaced it with Google Podcasts. It has its own stats and subscriber data you can view as well.
We have a step-by-step guide to Google Play podcast submission too.
Sign up through the Google Play Music Podcast Portal.
Blubrry
Blubrry is a podcast hosting provider but they also have a popular podcast directory.
Digital Podcast
You'll need to create an account, but then you just paste your feed URL in, choose your categories (just like iTunes), and you're done!
Submit to Digital Podcast directory here.
iPodder
iPodder is another directory with a simple form and they will review your podcast before adding it. You only need to put in your email address, category, and RSS feed URL.
Add your podcast to iPodder here.
Podcasts.Alltop
Update: This appears to redirect to the Tech section now – guess they got rid of it. They also removed site submission. Still a great place to find sites to follow.
I don't think this is widely known yet, but Alltop has a podcasts section. You'll need to create an account and submit your site. When you submit, just choose the 'podcasts' category.
Additional Podcast Distribution
I use Auphonic to automatically adjust levels and dynamic range for my shows, but they have integrations for YouTube, Facebook, and Soundcloud. You can also create an Audiogram that shows waveforms over your cover art for a great shareable video of your podcast.
You should also check out this post on how to promote a podcast for more specific marketing tactics.
YouTube
You can expand your reach by uploading your podcast to YouTube. Some larger shows will record their studio and show a video recording, but you can simply have the video portion just show a static image (or an Audiogram) of your podcast cover art while your podcast audio plays.
Facebook
Everyone is on Facebook. You can share your whole podcast, certain sections, or a teaser.
Soundcloud
I don't recommend using Soundcloud podcast hosting, but I do recommend uploading your .mp3 files to Soundcloud through a free account.
---
January 2020 Update: Removed old directory
November 2019 Update: Added Google Podcasts and moved Google Play Music down to the 'More' section.
June 2018 Update: Moved Spotify and added additional details to get in their directory.