So you need a computer microphone? Many laptops come with built-in mics, but they usually aren't anything to celebrate. If you have a desktop PC, a lot of times they won't come with a microphone.
So which one should you get?
Our top pick for a computer microphone in 2023 is the Blue Yeti
.
It really depends on your intended use and budget though, so we'll highlight our favorite picks for general use, like when using Skype or Zoom. All of these are excellent desktop mics for a variety of uses.
Microphone quality usually increases with price, so know that for the most part, your budget will determine how well you will sound. You will also want to consider the type of input you are using. USB and 3.5mm are common connections that work with both Mac and PC.
Lastly, is portability import? Some of these mics are great for travel.
Check out our dedicated posts for gaming mics and USB podcasting mics if either of those fits your use case.
Best All-Purpose Computer Microphones
All of the computer microphones listed here come with either built-in or detachable stands so you don't have to worry about how to keep them standing on your desk.
Blue Yeti

Our top choice for the best PC microphone is the Blue Yeti. Not only is the sound quality excellent for the price, but it has features that I've found I cannot live without (I use it on a Mac for podcasting). Whether you plan on using it for gaming, podcasting, voiceovers, YouTube videos, Skype calls, Hangouts, or all of the above, this mic excels.
You can switch it between 4 modes so you can use it for solo speaking, conference calls, in-person interviews, music recording and more.
You can plug in a pair of headphones and adjust the volume, change how sensitive the mic is (gain control), and it comes with a nice sturdy base that allows the mic to be adjusted to the correct position on your desktop (every desk is different).
Shure MV5
Not only is the Shure MV5 a good computer microphone, but it is Apple MFi Certified. That means you can connect it directly to an iOS device without any adapters. It includes both a USB cable and a Lightning cable, so you don't have to worry about needing to buy a separate cable.
It includes a headphone jack for monitoring, 3 preset DSP modes, and is small enough to carry with you. You can remove it from its stand and use it laying on a desk or table, making it even more portable.
This is easily one of the best computer mics under $100 – and the ability to use it on your iPad or iPhone is really a bonus!
Audio-Technica AT2020USB+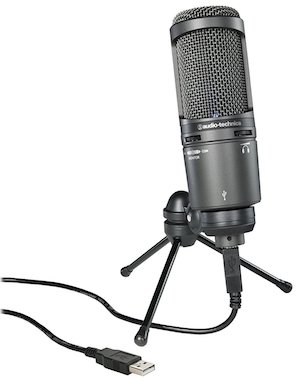 The AT2020 is a classic vocal mic that performs well above its price point.
The AT2020USB+ is, you guessed it, the plug-n-play USB version.
It has a headphone jack so you can listen to yourself speaking (don't use your speakers or there's a good chance you'll get a nasty echo) and a mix control dial that lets you blend audio from your computer with whatever you microphone is hearing (like your voice).
It comes with a USB cable, tripod stand, carrying pouch, and a threaded mount for attaching to other desktop stands or arms.
Samson Go Mic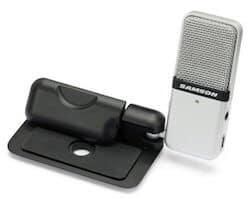 The Samson Go Mic is one of the best computer mics for travel and portability. It is plug and play for both Mac and PC (no drivers required) and will sit on a desk or clip to your laptop screen.
But don't discount it because of that. It has a headphone jack for live monitoring, a frequency response from 20Hz to 18kHz, and comes with a carrying case. This is a great all-around mic that will perform well recording YouTube videos or chatting over Skype.
Samson Meteor Mic
The Samson Meteor Mic offers a great value for the price – and is a great complement to any PC or Mac. You get a flat frequency response from 20Hz to 20kHz, 16-bit 44.1/48kHz resolution, and a headphone monitoring jack. It comes with a USB cable and a carrying case.
You'll get great sound for any spoken audio for under $70.
Audio-Technica ATR2100x-USB
The Audio-Technica ATR2100x-USB is one of my favorite entry-level PC mics. You can use it with either USB (for direct connection to your computer) or XLR (for use with a mixer or audio interface) connections, giving you a lot of flexibility and room for expansion.
It's also a dynamic microphone, meaning that it won't pick up background noise as easily as most of the other mics on this page.
Because you can use it handheld or with the included stand for desktop use, it works great as a vlogging mic or podcasting mic, among many other uses.
We featured it in our podcast starter kit and we have a separate review if you want to learn more or see some recommended accessories.
Blue Snowball
The Blue Snowball is a quality budget microphone for your PC. You can choose between cardioid and omnidirectional (front and all directions, respectively) pickup patterns and the metal stand is adjustable to different heights.
Blue offers 6 different colors of the Snowball so you can get the exact look that matches your setup and will great on your desktop.
If you're looking for a plug and play mic that is made by a reputable company, sounds great, and is easy to use for under $50, grab this one.
Fifine Cardioid Mic
There is a cheaper version, but it doesn't have the onboard volume control and it picks up sound from all directions, which is bad in most cases. The cardioid version uses a cardioid pickup pattern, meaning that it is meant to just pick up sound from the front – like your voice. It's an upgraded version of Amazon's best-selling computer mic and is a good choice for a cheap PC microphone.